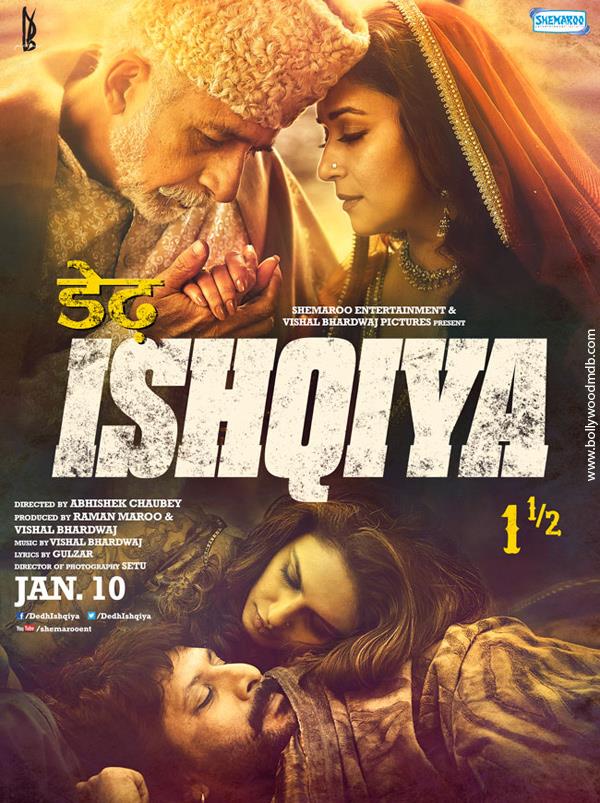 Dedh Ishqiya is the sequel to the critically-acclaimed 2010 release which also marks the return of Bollywood icon Madhuri Dixit to the big screen. Also starring Naseeruddin Shah, Arshad Warsi and Huma Qureshi in key roles, the film has been directed by Abhishek Chaubey and will release on 10 January 2014. The music has been composed by Vishal Bhardwaj, who has given us hit albums like Omkara and Kaminey as well as Ishqiya. The lyrics have been written by the legendary Gulzar, who has worked with Vishal Bhardwaj for many years and together, they have created some outstanding songs that have had a huge impact on many Bollywood lovers. So will the music to Dedh Ishqiya mesmerise you? Read our review to uncover our verdict!
First up is 'Dil Ki Mizaaj Ishqiya,' which has been sung by the talented Rahat Fateh Ali Khan. The composition is indeed decent and catchy, with Rahat giving the song an overall smooth touch to it. However, my major problem with it was its length; with a runtime of over six minutes. Overall, not a bad song, yet the length could have been condensed slightly. There is also a Remix version of this song, which is not worth listening as it's dull just like the many other remixes which have emerged from Bollywood in recent times.
Next is 'Hamari Atariya,' sung by the charismatic Rekha Bhardwaj. I do like the fact that the music to this mujra-themed song has a blend of modern and traditional elements that may be of appeal for many. In addition, Rekha is wonderful as always and her voice does work well with this particular song. Hence, do check it out though be warned that this is not like your average Bollywood mujra song.
Following this, we have 'Zabaan Jale Hai,' performed by Rahat Fateh Ali Khan. The music does have a nice use of the guitar, which gives the song a mellow feel to it. However, although it is by no means a badly composed track, it just did not appeal to me personally. Yet it will certainly appeal to others which may enjoy the unconventional sounds to it.
We also have 'Jagaave Saari Raina,' which has been sung by Rekha Bhardwaj and Pandit Birju Maharaj. I liked the use of the tabla in this one which gives it that traditional Indian feel to it. Also, Rekha's voice makes it all the more enthralling to listen to. I am pretty sure this will win over those who have an appreciation for classical Indian music as it is loosely based on this particular theme of music. Do give this one a listen as its arguably Vishal Bhardwaj and Gulzar at their finest!
'Kya Hoga' is next and is sung by Jazim Sharma, Master Saleem, Shahid Maliya and Jamal Akbar. The song has a strong Qawalli touch to it and the singers do give it their all in this one. I do like the traditional style of music that has been adopted for this song, which makes it a nice change from what we all listen to on a regular basis. However, at a runtime of almost eight minutes, you will need a little patience to get through this one.
Finally we have 'Horn Ok Please,' which has been performed by Yo Yo Honey Singh, Sukhwinder Singh and Anushka Manchanda. Probably the only song in the album with a strong contemporary composition, it is also the weakest of the lot. Although Sukhwinder sounds as amazing as always; it just did not work for me in the same way as the others, which are in another league. My advice would be to give this one a miss, as its boring and lacking in musical style.
To sum up, Dedh Ishqiya is a respectable attempt by Vishal Bhardwaj who has sprayed 'desi' all over this album. The lovely traditional Indian music, as well as Gulzar's creative lyrics, which accompanies some of the songs certainly makes it worth the listen. I am sure there are many who will develop an appreciation for this album which has given 2014 a cool kick-start!