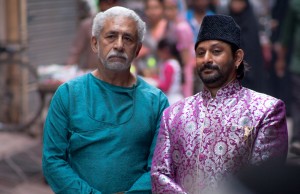 Dedh Ishqiya, sequel to the successful and acclaimed Ishqiya, is slated for December 13, 2013, release.
Directed by Abhishek Chaubey, produced by Vishal Bhardwaj Productions and Shemaroo Entertainement, the Ishqiya Series is about the romantic adventures of Khalujan (Nasiruddin Shah) and Babban (Arshad Warsi) with beautiful, irresistible  and dangerous women of redoubtable character.
In Ishqiya, Vidya Balan was the femme fatale who lead the two men a merry dance while in Dedh Ishqiya, fun is doubled with Madhuri Dixit and Huma Qureshi playing the seductresses with 'nawabi ada'.
Not only does it have a cool cast but Dedh Ishqiya music has music by the great Vishal Bhardwaj with the lyrics by the esteemed Gulzar.
Stay tuned we will have much more from this exciting film!