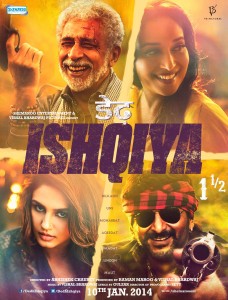 In a unique marketing initiative, Dedh Ishqiya trailer has been launched on Facebook.
Dedh Ishqiya, sequel to the successful and critically acclaimed Ishqiya, is directed by Abhishek Chaubey, produced by Vishal Bhardwaj Pictures Pvt. Ltd. and Shemaroo Entertainement. The Ishqiya series is about the romantic adventures of Khalujan (Naseeruddin Shah) and Babban (Arshad Warsi) with beautiful, irresistible and dangerous women Madhuri Dixit as Begum Para and Huma Qureshi as Munniya.
Talking about the seven stages of love producer Mansi Maroo says, "It is an interesting concept and has been beautifully portrayed too. Two of the characters, played by Naseeruddin Shah and Arshad Warsi, are having a conversation over a drink when Naseer saab educates him about the seven stages which are dilkashi (attraction), uns (attachment), mohobbat (love), akidat (trust), ibadat (worship), junoon (madness) followed by maut (death)."
"Vishal and Abhishek have a done wonderful job while depicting these stages. Also, Naseer saab too knows the language so it was easy for him to mouth those heavy-duty Urdu words. Arshad and others have done a lovely work on their dialogues and the final result has come out really well. Although there are some authentic words being used, Abhishek has made sure that it has some humour to it so that audience can understand them as well," Mansi adds.
Dedh Ishqiya music is by Vishal Bhardwaj and the lyrics are by Gulzar and is slated to release on January 10th, 2014.
<div id="fb-root"></div> <script>(function(d, s, id) { var js, fjs = d.getElementsByTagName(s)[0]; if (d.getElementById(id)) return; js = d.createElement(s); js.id = id; js.src = "//connect.facebook.net/en_GB/all.js#xfbml=1″; fjs.parentNode.insertBefore(js, fjs); }(document, 'script', 'facebook-jssdk'));</script>
<div data-href="https://www.facebook.com/photo.php?v=381220878678107″ data-width="550″><div><a href="https://www.facebook.com/photo.php?v=381220878678107″>Post</a> by <a href="https://www.facebook.com/DedhIshqiya">Dedh Ishqiya</a>.</div></div>