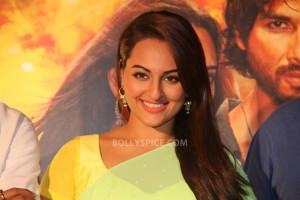 ​​​Sonakshi Sinha's currently on a roll at the moment, following the average success of OUATIMD, she had two films releasing within two weeks Bullett Raja (opposite Saif Ali Khan) and R..Rajkumar (opposite Shahid Kapoor).
Her latest release R..Rajkumar sees her sharing the screen with the talented Shahid Kapoor, so what does she make of her newest co-star? "Shahid is the most dedicated actor I've met. He completes 10 years in the industry this year, but still shows the same kind of enthusiasm and sincerity."
"He'd spend the entire day shooting, doing some hardcore action, performing challenging choreography, getting injured and then, at night, he'd still hit the gym!"
Sonakshi has starred in action films before, so what made her go for this one? "Prabhu sir (Deva) had told me about this film while we were shooting for Rowdy Rathore. I loved the story and immediately told him I wanted to be part of it. It's a fun entertainer that will have you clapping and whistling."
Sonakshi's introduction scene will see her try her break out of her traditional 'fair maiden' typecast, by showing her trying her hand at some heavy duty stunts, such as beating up troublemakers and smashing glass bottles.
R…Rajkumar releases 6 November 2013 and we're all keen to see how well R..Rajkumar does. Hopefully it will prove to be a much-needed hit that both Sonakshi and Shahid need but keep watching this space for more of your favourite Bollywood news!