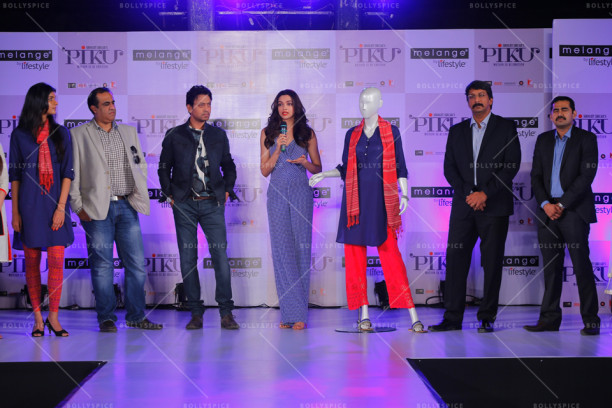 Deepika Padrone, co-star Irrfan and director Shoojit Sircar, recently launched the 'Piku Melange Collection', an ethnic fusion collection from Melange by clothing brand, Lifestyle. Speaking about her character's style in the film, the actress adds, "I think Piku tries to keep her look stylish and functional at the same time. She believes in looking presentable, stylish and at the same time be comfortable at work. The style in the film is also like that — Piku works during the day, runs the house and also takes care of her father. " The collection takes inspiration from Deepika's 'modern meets ethnic' look in the upcoming family comedy drama, and will give fashionistas access to the actress' style as featured in the film.
Deepika added that she feels her personal style closely resembles her character's in the film. "I'm happy to leave the professionals to do my hair, makeup and styling — this is required of me in my profession and they do a great job of it. However, personally, my style is a lot like Piku — very flowy, breezy, functional and comfortable."
Shoojit Sircar's family comedy drama PIKU, that also stars the great Amitabh Bachchan, releases in cinemas worldwide on 8th May 2015.
Check out the pictures from the event!