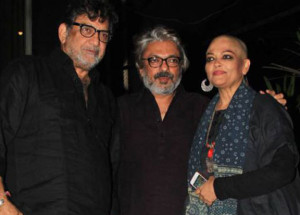 It is a known fact that for Ranveer Singh, there are two women who catch his attention in Bajirao Mastani – Deepika Padukone as Mastani and Priyanka Chopra as Kashibai. While his character Bajirao gets married to both, there is one more woman who vies for his attention.
Well, she is 55 year old veteran actress Tanvi Azmi, who plays Ranveer's mother in the film.
"Yes, she has a powerful role in the film," informs our source, "she plays the character of Radhabai, who was instrumental in Bajirao's growth as a warrior. From a child who was disheartened with his defeats during practice to a mighty powerful warrior who never lost one of his 40 odd battles in the 1700s, Bajirao had a lot to credit his mother for his meteoric rise. This is where Radhabhai played a crucial part."
No wonder, Sanjay Leela Bhansali needed a powerful actress to enact this part.
"It had to be an actress of substance," the source adds, "There were a few names being considered, right from Shabana Azmi to Dimple Kapadia. Both actresses had started their career around the same time in the early 70s, and are active till date. However, things didn't work out with them. Then another lady in strong contention was Supriya Pathak, with whom Bhansali had also worked in Ram Leela. She was quite powerful in the film. However, the idea was to get someone unique who could act as a surprise element. This is where Tanvi Azmi's name popped up."
For the veteran actress, who is quite selective when it comes to picking and choosing her films, the part of Radhabai was as challenging as it gets.
"In last 30 years, Tanvi Azmi has done just 30 odd films. For her, a role has to substantial enough to say yes to. Hence, when this crucial part of playing Ranveer's guide and philosopher came in, she gave a nod of approval. This isn't all as when she was required to shave off her head for the part, she readily agreed to that," the source continues.
Apparently, her part also has shades of grey in the film. Guess it would all be revealed once this Kishore Lulla and Sanjay Leela Bhansali film releases all over on 18th December.