Deepika Padukone, who will be seen next in Sanjay Leela Bhansali's Ram-Leela opposite Ranveer Singh, believes in the old school form of love.
"I believe in the old school form of love, which I have seen growing up with my parents and my extended family. I am very traditional when it comes to love, marriage and relationships. This is because I do not know any other way as I have been brought up like this," says the 27-year old actress.
The actress plays a free-spirited girl in the musical adaptation of William Shakespeare's tragedy Romeo and Juliet. She adds that Ram-Leela has been one of her most difficult films of her career.
"Ram-Leela has been the most difficult film that I have done. This is because I had to go on the shoot like a blank slate everyday and he (Bhansali) would mould me. I would go on the sets and take the day as it came. So, it was unnerving because you don't know how the day would go," she said.
Deepika Padukone had a succesfull run this year with Race 2, Yeh Jawaani Hai Deewani and Chennai Express.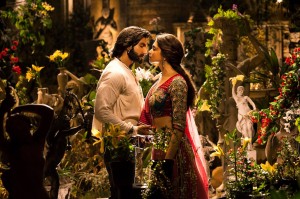 And going by the promos and public response we hope she can add Ram-Leela to this wonderfull list as well.