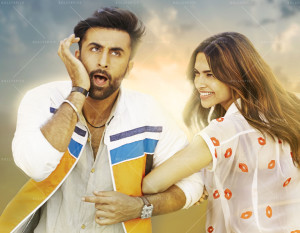 "All the world's a stage, And all the men and women merely players". That Shakespearean line from his classic comedy As You Like It, is the idea behind and in many ways the essence of Imtiaz Ali's new film Tamasha. But, even more, the film explores: are we merely players or can we make our own story? In the world of Tamasha, the characters, especially Ranbir Kapoor's Ved "plays" the character of a businessman within his real life, but on a trip to Corsica, where of course he meets a girl, Deepika's Tara, he lets the storyteller that lives inside him out. Will Ved be able to break the shackles of ordinary existence, escape the corporate rat-race and become the way Tara sees him – the exuberant storyteller when they meet again and get their happily ever after? We will find out on Friday!
In our recent interview with director Imtiaz Ali(which you can read here) we learned that working with Deepika Padukone and Ranbir Kapoor was a creatively wonderful and satisfying experience. In fact, their performances and their equation in Tamasha is his favorite thing about the movie. Now read what the actors think about him and about each other in this very cool Q and A!
Explaining more about what Tamasha is all about, Ranbir revealed, "Tamasha can be seen to mean the spectacle we make of our lives. In the film, two people go on a holiday, they meet, they decide to live a carefree existence at awesome locations, and in a twist, they decide not to burden their lives with identity, hence they don't reveal their true identities. They don't feel the need to be tied down through the commitment of a relationship. However, after three years, the girl realises that she is still in love with him, and can't live without him. She sets about tracking him down in Delhi. When she finally finds him, she sees that he has become the worst version of himself possible; he has lost all zest for life. She hates him and when he proposes to her, she tells him, 'No, I don't want to be with you. I was waiting for that guy.' Her words get to him and he sets about changing his life. There is a happy ending!"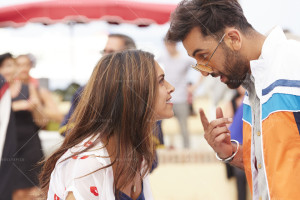 Both Ranbir and Deepika have worked with director Imtiaz Ali before and created career defining performances – Ranbir in Rockstar and Deepika in Cocktail. Working on those films separately and now coming together for Tamasha the three definitely have mutual admiration society. Ali calls them great actors who have taken Tamasha even beyond what was written on the page.
In her turn, Deepika says that Imtiaz has changed her life both as an actress and a person, "My equation with Imtiaz is beyond my actor-director relationship. He is in a large way responsible for who I have become today both as an actor and as a person. He was the one who kept saying to me that there is more to you as a person than you are revealing, let yourself go. He figured me out even better than I knew myself, but I was locked in my own shell."
And Ranbir has nothing but praise for the esteemed director; "Imtiaz has given wholeheartedly of himself in this film." Continuing his admiration for the director's work he said, "He is cutting edge, creative, innovative and a risk-taker; he doesn't become a prototype of the films he makes. He is such a successful director and has made both intelligent and entertaining films. When he made Highway, he understands its reach. Rockstar was not a widely accepted film and he accepted and understands all that. For me, to just see that endeavour to be the best version of himself is very inspiring."
Ranbir added, "When Imtiaz comes to you with a story you are honoured by the fact that Imtiaz wants to make a film with you! He is a passionate director, who wants to tell a story with as much passion and conviction as possible. There is a reason why he is making a particular film; he believes in his subject matter greatly. Of course the story of the film was something that we all agreed to do. Tamasha is a simple story, it's a true love story, it's not like every story out there."
One of the jobs of an actor is to promote a film, which in today's world seems to be very important, "We are super busy at the moment, but promotion is promotion. You work hard, there's a lot of money at stake and so it's very important that people know about the film you've just made." said the actress. However, "I think that the only thing that matters eventually is the content of the film itself," Deepika added.
Ranbir concurred, adding that they are happy to do it because they are proud of this film, "It is important, there is so much at stake that you want to reach a large audience, it is hard because we meet some interested people who want to know about the film and we also meet others who already know what the film is about and want to know what's happening behind the scenes. It can be a painful process to answer the more intrusive questions, but it's ok, we believe in the film we have made, and are proud of it."
Box-office numbers, especially for a big budget film like Tamasha, are in some circles, a meter of success, so what do they hope for Tamasha? Both Deepika and Ranbir think that giving their best in the film is the key and box-office numbers will be there.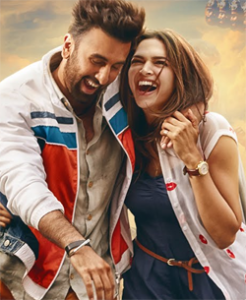 "Box office numbers are very important. We all chase numbers but once you make people happy, the numbers will follow," Ranbir replied.
Deepika agreed, adding, "As an actor, the only way I can give back to a big budget film is to give the best performance that I can. The numbers will follow if it has to, but as an actor, there is only that much you can do."
The last time the two starred opposite each other was in 2008's Bachna Ae Haseeno, so how have they changed since then? Ranbir answered this one saying, "I don't know. Change is always more visible to the third party, rather than yourself. Yes, of course, there's the progression of a person as an actor, but I think the heart is the same; the intention is the same, the desire to do better, to be a better actor, to be part of good movies."
So what does Ranbir think about Deepika? "She is a very positive person. She is a generous actor, always giving back to her co-star and director. She does not have a hero-centric mind and is not a superstar who likes to steal the limelight from others. Deepika's inspiring all of us, the male actors and female actors so I think it's a lovely time to work in the industry."
For Deepika, "Ranbir is someone I admire a lot for the kind of work that he does, and for his talent and enthusiasm. He is very talented," she revealed. Going on to say, "I like that he is very respectful towards others. He is also someone who does not get visibly affected by people and by situations. He is someone who can focus on the task at hand, and detach from all distractions."
Fans love to see these two actors light up the screen, so is another film in the cards? Without giving a definite yes, Ranbir did say they would like to work together again in another film if the right one came along, "We both want to keep our separate work identities and be in the type of films that appeal to us the most. We don't want to be burdened by our history, but I also don't want to lose the opportunity to work with her in the future. I understand the value she brings to a film not just commercially but also to my performance."
Watch the tamasha unfold when Tamasha hits theaters on November 27th.