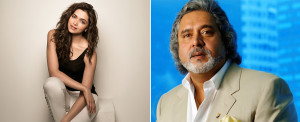 Madhur Bhandarkar's upcoming film Calendar Girls has created quite a buzz since its trailer release. Soon after, the director revealed that it was Deepika Padukone and business tycoon Vijay Mallya that inspired him to make the film.
Madhur Bhandarkar said, "We have taken inspiration from a lot of people like Vijay Mallya… Who launches calendar every year. I share good relationship with him. Deepika (Padukone) who herself was a calender girl. "
"When I flipped the pages of calendar (launched by Mallya), I was intrigued to know more about them… How it gives them a platform to get noticed. I did speak to Vijay (Mallya) that I am making a film like this. I plan to show him the film," he further revealed.
The film revolves around the life of five models – Paroma Ghosh, Nazneen Malik, Nandita Menon, Sharon Pinto and Mayuri Chauhan, who gain popularity after featuring in famous calendars. Speaking about the story, Madhur Bhandarkar said, "The film is 75 per cent (based on real life) and 25 per cent fiction. We have shown what happens in the life of calendar girls… What options they choose ahead for their career, the struggles they go through and how their life changes."
Set to release on 25th September, Calendar Girls essays the story of five models, who go through various phases from fame to anonymity. It stars Akanksha Puri, Avani Modi, Kyra Dutt, Ruhi Singh and Satarupa Pyne in pivotal roles. Produced by Sangeeta Ahir's Mangalmurti Films, Calendar Girls is directed by Madhur Bhandarkar.