By: Anjum Shabbir & Bodrul Chaudhury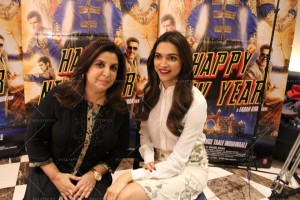 After a long day of endless interviews and routine questions, we promised both Farah and Deepika that we would keep our interview short and make it fun. So they very kindly offered to move away from the media set-up and kick back in a more relaxed environment and so began a bunch random and fun questions. Enjoy!
Farah, this is a heist film. So can you tell us what is your favourite heist film?
Farah: There are lots of them. The Inside Man, which is a super heist film. Then of course Ocean's Eleven and The Italian Job also (the original Michael Cain one).
If there's one thing you could steal in real life what would it be?
Deepika: I wish I could steal my family, displace them from Bangalore and place them in Bombay!
Farah: If I could steal one thing it would be Shah Rukh!
Ocean's Eleven had eleven actors in the film. Happy New Year has six leads altogether. If you could include five more actors in the film, who would they be?
Farah: I've had enough with six only and it was quite a handful. I'd definitely like to work with Amitji (Amitabh Bachchan), who would be great in a heist film. Also Tom Cruise, Channing Tatum, Brad Pitt and (Bradley Cooper – added Deepika).
If you were to bump into a non-desi who has never seen a Bollywood film before, how would you sell Happy New Year to them?
Deepika: Show them the trailer!
Farah: I'll show them 'Lovely' (laughs).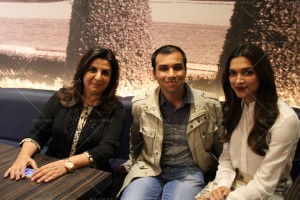 What's one thing about London that you love?
Farah: There's not one thing I love. I love everything about it. I think at some point I'd love to live here and if I had to buy a house out of the country (India) somewhere, I think London would be it.
Deepika: I know for a fact that in the years to come, I'd probably spend half the year over here (London) and half the year back in India. I think what I like is that I find a lot of similarities culturally. The value system, the family system is very, very similar to Indian culture and I think that's what attracts me most to London.
Finally, who do you think is the greatest thief? Shah Rukh Khan in Happy New Year? or Akshay Kumar in Tees Maar Khan?
Farah: I think in Happy New Year, the robberies are bigger, grander and a little more intricate. Tees Maar Khan was more like a con-job.
[Enter Shah Rukh Khan]
Back from being honoured in Westminster's House of Commons, he exchanges pleasantries with both Farah and Deepika, whilst sharing that he was able to strike his iconic pose in front of London's Big Ben. A beautiful end to a lovely interview.
But not before Farah Khan thanked BollySpice for making the interview fun and not asking 'the routine questions' everyone else did. We were more than happy to do so…BollySpice would like to thank Deepika Padukone and Farah Khan for taking the time to speak with us!
Happy New Year releases on 24 October!