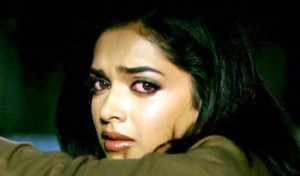 Deepika Padukone is undoubtedly ruling the Bollywood film industry right now. All of her 2013 releases, which included Race 2, Yeh Jawaani Hai Deewani and Chennai Express have done remarkable business at the box office. However, Deepika is not done yet as she still has one more film up her sleeve which will release in November 2013. That film is of course Ram Leela, where she will be paired opposite Ranveer Singh and has been directed by acclaimed director Sanjay Leela Bhansali.
It has been reported that on the final day of filming for Ram Leela, Deepika broke down in tears after Sanjay Leela Bhansali praised her performance for a scene that was being shot. The source reported the following to the Indian media. "On the last day of the shoot, Deepika was shooting an intense scene when Bhansali praised her in front of everyone. He said he loved her performance and that she had done a fabulous job in the film. Deepika was touched when she heard the praise, so much so that she broke down. She got emotional on hearing compliments from a hard taskmaster like Bhansali, who has also worked relentlessly on the film."
One wonders whether Deepika will strike gold with Ram Leela when it releases on 15 November!