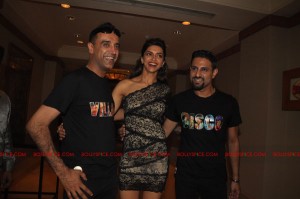 Deepika Padukone helped to launch the Bollywood Jollygood T shirt range at the JW Marriott in Mumbai. The star of the upcoming film Desi Boys, was mobbed by photographers as she joined British film critics Raj & Pablo, and designer Hox, launch their new range of T shirts.
The star joked "I'm here with my real desi boys Raj & Pablo" as she posed for the cameras.
 Deepika then held up the DISCO T-shirt design adding "I love to dance. I love to disco".
Mumbai hip hop star Hard Kaur also joined the party but her favourite design was VILLAIN.  
"I'm a bad girl, what can I say?" She laughed "The Villains on this T-shirt are icons, they are my heroes!".
British fashion designer Hox, the creative force behind Bollywood Jollygood said her background as a hand painter, helped to define the concept of the T-shirts "I've always loved the retro art of Bollywood from yesteryear, that coupled with my own experiences of painting, led to this range.  We commissioned an original film poster hand painter in Mumbai, to help keep this beautiful art alive. There much more to come".
When asked why DISCO and VILLAIN were chosen as the first designs Raj & Pablo joked "We love to Disco, so the T-shirt celebrates the icons we watched on film. It's a great T-shirt to go out in on Sat night. And Villain?  Well we all have those moments, when you want to be a little bit naughty, we just love some of the moustaches on the design. Parties and being naughty? Says a lot about us!"