Set-up by Adhuna Bhabani Akhtar and Osh Bhabani in 2004, the b:blunt brand has since become known as the premier salon group in the country, synonymous with the standards 'fit for a Celebrity'. After the success of their salons and academies in Mumbai, Pune and most recently in Delhi; b:blunt is all geared up to share their passion with the rest of India. And the new Bangalore branch of India's premier hairdressing salon was launched by none other than the talented Bangalore beauty and Bollywood Glam girl– Deepika Padukone.
"I am thrilled to launch the new b:blunt Salon in Bangalore, b:blunt has been a part of the Bollywood culture for more than a decade and it's about time Bangalore deserved our own 'Destination Hair Salon' " said the Actress, who sported a trademark 'b:blunt Braid', developed by b:blunt's acclaimed artistic team, on the occasion. "People generally don't pay enough attention to grooming and pampering their hair. The fact that 'hairstyling is an integral part of who you are and a quality haircut is a style statement in itself', is one of an actor's best kept secrets", she revealed. "Adhuna and I go way back, she is the first stylist who I've actually let snip off my hair for a movie!! Else it's always just been a different styling without involving the ubiquitous scissors into the picture," she cheekily adds with a wink.
Besides Deepika, the b.blunt Artistic Team also styled the looks for some of Bangalore's prominent models on the occasion and the fashionistas were delighted to don a few of b:blunt's signature hairstyles at the launch.
The Salon, which is the largest in India was launched amidst much fanfare with b:blunt's founder-director, Adhuna Bhabani Akhtar being present at the function along with celebrity stylist Brent Barber and Thomas Dawes, Director – b:blunt.
"We are excited to announce b:blunt in Bangalore, this being an important milestone in the rolling out of our elite 'destination hair salon' chain nationally," said Ms Adhuna Akhtar, Director – b:blunt Salons and Academies. "Hairstyling is a very personal and private affair. While we are actively involved with the Bollywood film industry, we also deliver a world-class experience that makes all our clients look and feel like celebs themselves". "We ensure that you have loads of fun while your hair enjoys our undivided attention furthermore," she added.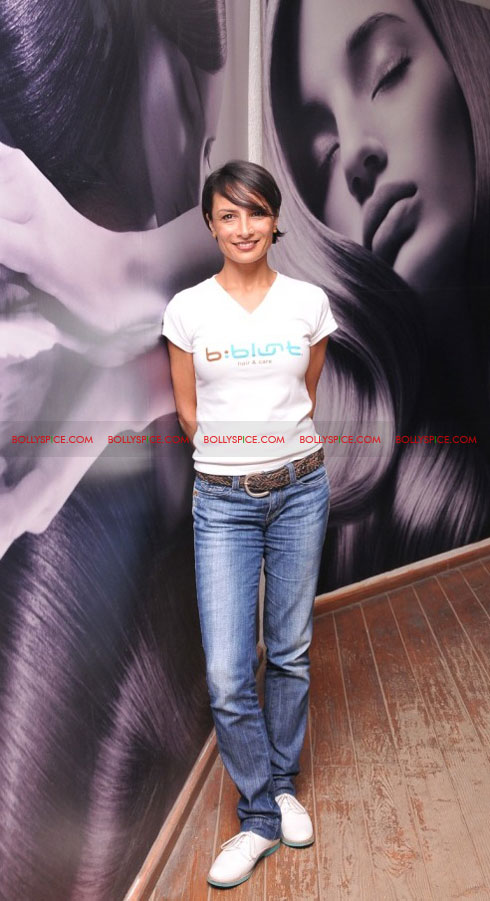 The salon, located in the epicenter of Bangalore city – near Garuda Mall on Magrath Road, offers a luxurious and exciting experience. With their range of services from haircutting to waxing and threading to makeup and facials, the exceptionally trained and qualified b:blunt experts cater to all beauty needs.
The Salon will also feature the first-of-its-kind Blow Out Bar. With an enchantingly cosy yet chic ambience, the space is a dedicated one-stop destination for all elements from manicures to cosmetics and hairdressing, turning your look just right for a night out.
"People often want to get glammed up for parties or the like. The concept of the Blow-Out Bar begins and ends with us wanting to offer not just a mere service but an experience, where one can chit-chat and have a blast with old friends or make new ones whilst their nails are being done or hair styled before they leave for their fun night out", said Brent Barber. "We believe this property in itself will become a rage amongst Bangaloreans. This Blow-Out Bar along with our unique Salon takes hairdressing to the next level!" he added.
The b:blunt artistic team has always been on the forefront in styling the crème-de-la-crème of Bollywood and have created the looks for many a blockbuster including Zindagi Na Milegi Dobara, Dil Chahta Hai, Dhoom 2, Lakshya, Rock On!, Rang De Basanti, Don etc. The team also collaborates regularly with magazines like Vogue, Elle, L'Official, Seventeen and Mans World and comprises of some of the most illustrious names in the hairdressing industry including 'Vogue Hairstylist of the year' – Avan Contractor and 'British Hairdressing Awards' winner – Brent Barber.
About b:blunt
Founded in 2004 by brother and sister duo Osh Bhabani and Adhuna Bhabani-Akhtar, b:blunt is India's premiere hairdressing salon. It pays homage to the changing face of India with seemingly simple but precisely cut, coloured and constructed hair. Over the years, a steady stream of internationally reputable stylists have joined the ranks of b:blunt including superstar stylist Avan Contractor and most recently Brent Barber (awarded UK's Best Hairstylist of the Year).
A strong belief in ideas, hard work, tremendous commitment and ensuring a consistency in offering the latest trends has put Adhuna, Osh and their team at the top of their profession. The preferred choice of avant-garde youngsters, top-of-the-line fashion magazines and genre-defining Indian films, b:blunt is at the forefront of hairdressing and education continuing to redefine Indian hairstyling.