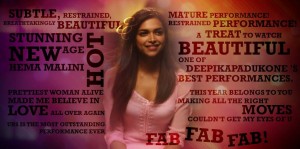 Not only does Deepika Padukone have a hit on her hands with Yeh Jaawani Hai Deewani, the actress has several other high profile films coming up including Chennai Express with Shah Rukh Khan, Ram Leela with Ranveer Singh and Kochadaiyaan with Rajnikanth. Deepika recently chatted about those films and more with Cineworld Cinemas Bollywood Editor, and BBC London/WM Indian cinema expert Ashanti Omkar and we have some highlights from that interview.
She says she signed YJHD purely on faith in the director Ayan Mukerji, "Ayan Mukerji approached me about the film, and said he'd written the part with me in mind. There were no 2 ways about it. I instantly agreed, as I wanted to work with him. He is a director who portrays human emotions so beautifully on screen. There is this emotional chord he manages to touch and he makes you feel something in scenes and more so, at the end – he makes you reflective about life."
Talking about working with Ranbir she had nothing but praise for the actor, "I admire his choice of films, his confidence, and the way he portrays his every role. He's a very giving actor and I like the fact that people appreciate our on screen chemistry. He is brings a lot of natural, non-rehearsed stuff to the film and his versatility is impressive. He is a dear friend and we have a lot of trust and respect in the equation. His success is mine, as mine is his."
She also praised co-star Kalki Koechlin who is getting rave reviews for her performance in the film, "I've gotten to know her well. She is a very lovely girl – very naughty, adventurous, mischievous and full of life. She exudes energy."
The actress recently finished shooting for Chennai Express and she revealed a little bit about the highly anticipated film. "It is a romantic comedy from Rohit Shetty. The film captures the journey of a man, from Mumbai to the Southern Indian Temple island, Rameswaram."
She wouldn't say too much about the film but about working with Shah Rukh Khan again she said, "I don't want to spoil the surprise by talking about it so early, but suffice to say, working with Shah Rukh Khan, after Om Shanti Om, was a breeze. It's been a great experience."
Coming to Kochadaiyaan, she says the film 'is a period-fantasy love story'. Directed by Soundarya Rajinikanth Ashwin, Kochadaiyaan has music by the great AR Rahman.
What is so cool about Kochadaiyaan; besides the fact that it is a Rajinikanth film, is that it was shot in 3D performance motion capture technology. You have seen this technique of filmmaking used in films like Avatar and Tin Tin. Kochadaiyaan will be the first of its kind in India. About working on film using this technology the actress said, "The technique of motion capture took me a few days to understand. Until you start doing it and you being to see how it functions, it is a challenge. I'm extremely excited about how it will turn out and to see myself in 3D."
So how is it to work with THE Rajinikanth? "Rajini Sir is so grounded, humble and down to earth. No words that I say will ever be enough to describe what a big star he is. He's like a kid on set, so excited about what to do next. What I will always take back from this film is much more than the 3 days working with him. It is what a warm and humble person he is, for everything he is, as a Superstar."
About working in Bollywood today and as part of the new-generation of actors Deepika said, "I believe that today's generation are versatile – all of us are a lot more experimental and ready and willing to take risks. Today's cinema is changing, with a wider variety, wider choice, and an audience who are accepting of good films, which are appreciated ultimately…"