Bollywood actor Deepika Padukone unveiled the Logo of her foundation The Live Love Laugh Foundation, a not-for-profit organization dedicated to addressing the issue of mental health in India. Deepika launched the Logo on Twitter today.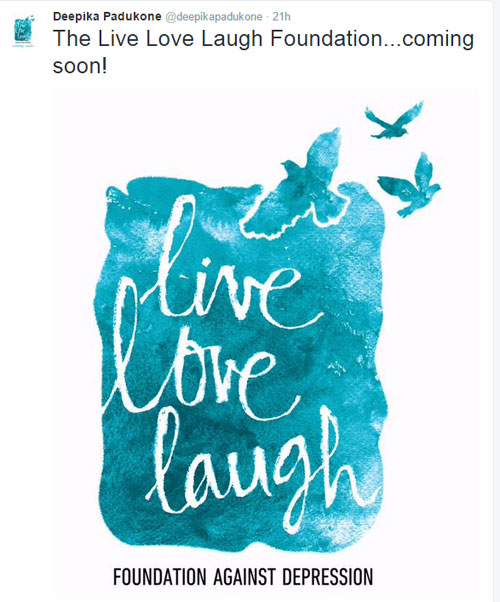 The Live Love Laugh Foundation logo is based on the idea of hope and freedom. The flying birds in the logo signify this very essence of the foundation. The logo encapsulates the message and philosophy of 'live','love' and `laugh'. The logo also has a baseline `Foundation Against Depression' that represents the mission of the foundation. The logo uses a single colour Teal. Teal is regarded as the colour of peace and tranquility; it also connotes strength and courage.
Deepika first spoke about her plans to set up the foundation in an interview with a popular news channel. She talked about how she had experienced depression and took professional help to overcome it. In the process of learning more about this condition she came to know of the widespread nature of depression across the world; especially in India. Deepika then decided to start a not for profit organization that would focus on increasing awareness of mental health as an issue, reduce the stigma around it and enable support to people affected by mental health issues.
Speaking about the initiative, Deepika Padukone says, "The fight against depression is a cause very, very close to my heart and is one of the largest health issues facing the country today. Having experienced depression in the recent past, I realise how difficult it is to recognize the problem, find information and get the right kind of professional help. I was fortunate to get the kind of support that I did and through this platform I hope to enable others get the same kind of help. My team and I are working hard to set up the foundation and the logo launch is a small step in that direction".
The Live Love Laugh Foundation was registered on 1st June, and other statutory processes have been completed. The foundation is engaging with institutions, professionals and other organisations in the field of mental health. Details on the launch of the foundation will be announced soon.