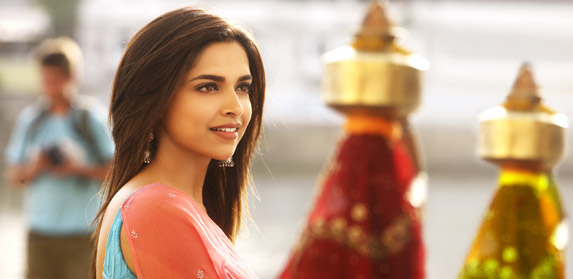 With each new film and performance, Deepika Padukone shows audiences why she was chosen to make her debut opposite Shah Rukh Khan in Om Shanti Om. From that first film to last year's outstanding turn as Veronica in Cocktail, Deepika has gotten better and better and fans are always eager to see what she will play next. What's next is Naina Talwar in Ayan Mukerji's Yeh Jaawani Hai Deewani. Starring opposite Ranbir Kapoor, the film, a love story of course, tells the story of a couple who begin as friends at 21 and their journey through life and love. We caught Deepika this week for a quick chat on all things Yeh Jaawani Hai Deewani. Check out what the actress told us about her character, working with Ranbir and… well, read on to find out!
How do you decide what roles you do?
It is always gut instinct. I go in for the narration and by the end of it I sort of know whether I want to do a film or not. I think it completely comes from the heart and on gut instinct.
What attracted you to Naina?
My faith in Ayan as a director. He is someone I always wanted to work with ever since I saw his work in Wake Up Sid. I saw him working very, very closely while he was making Wake Up Sid. I think he is the kind of filmmaker that makes the kind of films that I would either like to work in or even watch as an audience. That was it. I didn't have a bound script when I signed Yeh Jaawani Hai Deewani, it was just my faith in Ayan.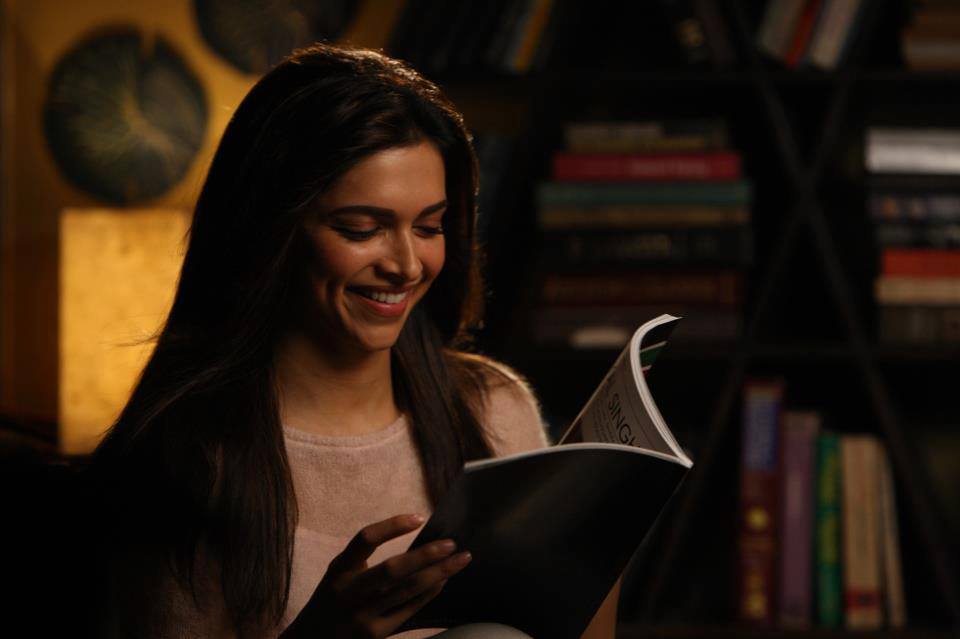 Tell us about your character; what is her story in the film?
I play the character of Naina Talwar. She is a studious girl; she is studying to become a doctor. She leads a very routine, boring, mundane life. And she thinks it is routine and boring. She reaches a point in her life where she is fed up with all of this. She wants to do something different. She decides to do something that's completely against her personality type. She goes on a trek with completely new people. She becomes friends with these people along the way. It is about how they sort of influence her life and then their journey from there on.
How did you become your character?
With this particular film I think my reference point was myself. I didn't really have to do too much research. The only brief that Ayan gave me was to feel positive and feel a lot of love. And just be myself.
How would you describe YJHD?
Of course, primarily it is a love story, but there is a lot more to the film than that. It is a lot of fun, there is a lot of entertainment, but the film is also about friendship and your relationship with your parents. It sort of talks about how it is important to have those few special important people in your life, to share your life with.
What do you think Ranbir and you bring out in each other as actors?
I think the fact that we are not very rehearsed as actors. We don't plan too much. Of course, we read our lines together but that is about it. There is no set meter as how we want to perform it and I think that is a nice way of doing it, you know? There is always room for improvising. There is a lot of give and take between the two of us.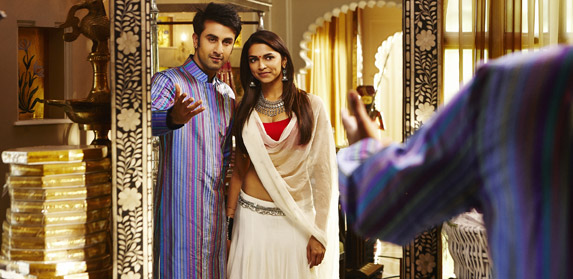 He says that you intimidated him as an actress and your performance is the best in the film. What would you say about his performance in the film?
I would say effortless. Whether it is this film or I would say this about any of his other performances as well. The best thing about Ranbir is that he is so effortless. He makes everything look so easy.
Tell us about working with Ayan Mukerji.
Of course as a director he is a lot of fun and you know we have been friends, but he is also quite a taskmaster on this one. It sort of has not been very easy. It did not feel like we were making a love story, it actually felt like we were making an adventure film because physically it has been quite a tough film to make. I think he is extremely talented. You know, he knows exactly what he wants to do; he knows exactly the story he wants to tell. It's great. I think at such a young age he is definitely one of the best directors we have around. There is a simplicity in all his stories. To capture human emotion so beautifully and keep it so simple and so real, I think is a very difficult thing to do, which I think he does wonderfully.
You said it was physically challenging and more like an adventure film…
We shot in very difficult locations like Manali, Kashmir, and Rajasthan where the weather was not really the best thing for us. So in that sense I felt that it was hard and more for the actors, I think for the unit it was very very difficult.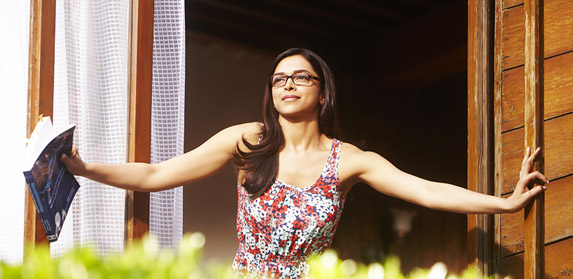 Do you get nervous before your first shot?
Yes sure! Especially when you move on to a new film your first few days are always sort of nerve racking because you have a new director, a new co-star, new people, new unit, it sort of takes time to adjust. So yeah, of course. I don't think I have ever felt that I know everything and I think every day on set is a learning experience.
What have you learned through this film?
I don't know. I don't think there is one particular thing that I have learned. I have definitely learned that if you are having a good time off screen it definitely translates on screen. I think that is a good energy to have especially for a love story like this.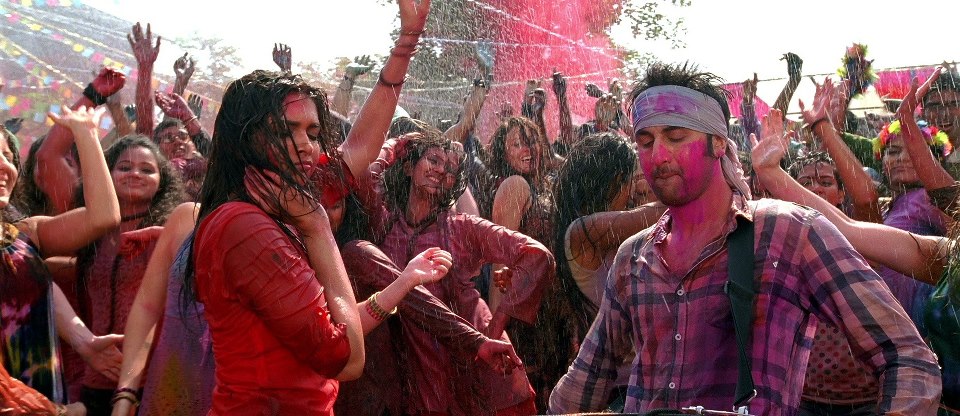 What is it like to shoot a song sequence compared to a scene?
It depends. Scenes are obviously a lot more fun but again it depends on what kind of song you are shooting. If you are shooting a narrative then of course there is that much more responsibility because there is no real distance between a song and a scene but apart from the fact that you have no dialog. If you are shooting a song like 'Dilwaali Girlfriend', 'Badtemeez Dil' or 'Balam Pichkari' then of course it is a lot of fun. It gives you a breather from all the scenes you are shooting.
From Om Shanti Om until this you have played such a diverse range of characters, is there any one that has stood out for you so far?
The stand out ones for me would be Om Shanti Om, Love Aaj Kal, Cocktail and now Yeh Jaawani.
What do you love about being an actress?
I think the fact that we get to travel so much and explore different places. I think, we, as actors, get to do something that I guess if I was in any other profession I wouldn't be able to do or wouldn't get the opportunity to do. You know, sometimes not out of choice, sometimes you are in a particular scene and you have no choice you have to do something. For example, if I had to say jump into the water or jump into the sea for a scene and if it is something I never thought I would do and if I had to do it for a scene then I would now have done that. So I think as an actor you get to do a lot of things that normally you wouldn't do.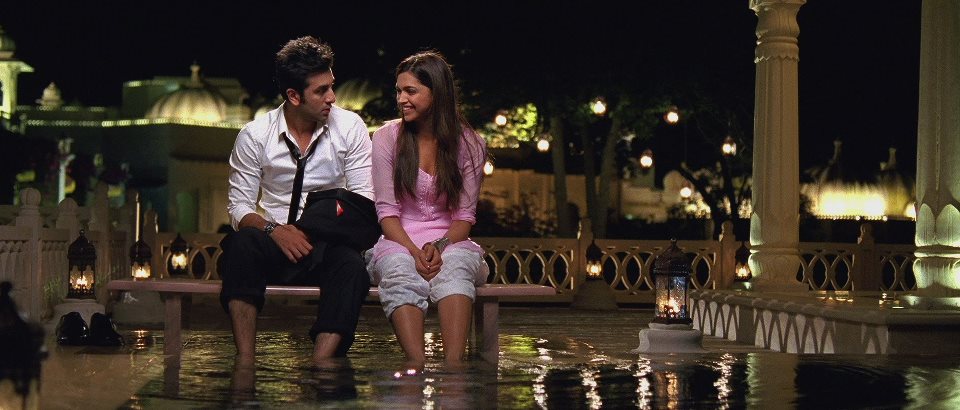 What are audiences going to love about Yeh Jaawani Hai Deewani?
I think hopefully the simplicity, the readability – all the characters are very, very relatable. The love stories are very, very simple. I think the fact that it is a universal film. It is not just for the youngsters. It is a film that an entire family can go watch together comfortably.
A message for your fans
Lots of love to everybody and I am looking forward to coming and meeting everyone soon. As far as Yeh Jaawani Hai Deewani is concerned like I said earlier on, it is a very simple beautiful film that we have made from the heart with a lot of love and a lot warmth. I hope that translates on screen. I hope all of you enjoy watching this film as much as we have enjoyed making it.
Yeh Jaawani Hai Deewani is in theaters tomorrow, May 31st!