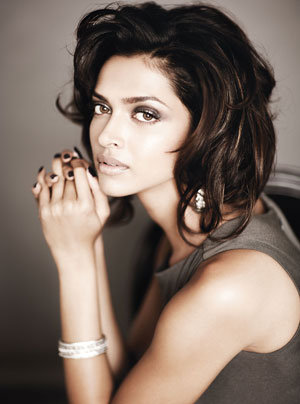 Deepika Padukone has said that she will always have a special place at Illuminati Films, owned by Saif Ali Khan and Dinesh Vijan.
The sultry actress who worked with the duo in their maiden production Love Aaj Kal said that she will always be special to Saif and Dinesh because she worked with them in their first production.
Illuminati Films is gearing up for the release of their second production Agent Vinod starring Saif Ali Khan and Kareena Kapoor.
Deepika revealed to BollySpice reporter Sunny Malik that Agent Vinod is quite an achievement for the young producers.
"I think it is quite an achievement for Dinesh Vijan to make film like Agent Vinod on such a large scale at such a young age, and even for Saif Ali Khan," said Padukone.
When we told Dinesh about Deepika's comment at a recent visit to London he responded saying: "I think, she is also very young and I think she has also achieved a lot (laughs). Tell her that next time you see her. Deepika is a friend so I can say stuff like that."
Deepika will be next seen in Homi Adjania's forthcoming directorial written by Imtiaz Ali, also produced by Illuminati Films opposite Agent Vinod actor Saif Ali Khan.
Dinesh was all praise for this 'special' actress and said: "She is very good in Cocktail. The whole film is based here in London and she is very good. You will see a trailer soon."
Sriram Raghavan's Agent Vinod is out in cinemas this Friday, 23rd March 2012 while Cocktail is due to release worldwide on 13th July 2012. Both films have been co-produced by Eros International and will be released by Eros theatrically worldwide.