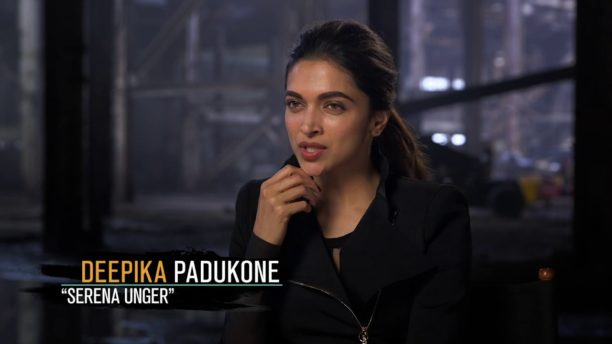 As we all know and can't wait to see Deepika Padukone makes her Hollywood debut as Serena Unger in the eagerly anticipated action movie xXx: Return of Xander Cage in cinemas on Thursday 19th January 2017.
Deepika plays the role of a secretive xXx operative from India, the enigmatic Serena Unger. She's bold and beautiful with a bad-ass attitude.
Check out this special video message Deepika Padukone has for her fans, ahead of the film's release on Thursday 19th January 2017
DEEPIKA'S special message to fans
Synopsis:
The third explosive chapter of the blockbuster franchise that redefined the spy thriller finds extreme athlete turned government operative Xander Cage (Vin Diesel) coming out of self-imposed exile and on a collision course with deadly alpha warrior Xiang and his team in a race to recover a sinister and seemingly unstoppable weapon known as Pandora's Box. Recruiting an all-new group of thrill-seeking cohorts, Xander finds himself enmeshed in a deadly conspiracy that points to collusion at the highest levels of world governments. Packed with the series' signature deadpan wit and bad-ass attitude, xXx: RETURN OF XANDER CAGE will raise the bar on extreme action with some of the most mind-blowing stunts to ever be caught on film.
Catch Deepika Padukone in xXx: Return of Xander Cage in cinemas on Thursday 19th January 2017