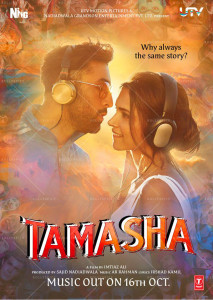 Coming up on November 27th, is Imtiaz Ali's Tamasha starring Ranbir Kapoor and Deepika Padukone. The romantic film with a twist also features music by the great AR Rahman. Recently Deepika talked about the music for the film, her Hollywood dreams and how fame has changed her. Check it out.
While talking about the music Deepika has nothing but praise for the tracks, "I think our music makes Indian movies unique, as compared to other films around the world. And it's a landmark in one's career when Rahman sir composes music for your film. We had a great time shooting for Tamasha songs."
Ask Deepika what's her favorite song in Tamasha? And she says, "Alka Yagnik-Arijit Singh number Agar tum Saath ho because it reminds you of people who have experienced love."
In other news Deepika also made an appearance last week at a MAMI event and expressed her willingness to explore cinema around the globe. In fact, Deepika Padukone is ready to take up opportunities in Hollywood. "I am interested in doing Hollywood films. I am ready to explore working in the West. I am ambitious and I am here (in Bollywood) too for a long time," she said.
Deepika may be cresting a wave of successful releases but she insists that she has not changed with fame. She said, "I wash dishes at home…I did some last night," she added.
Deepika reiterated that her parents and friends support her completely. "They continue doing their work and they know I am going to do my work. My father would lock me up if I change," she laughed.