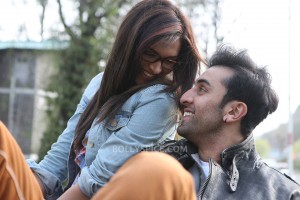 Deepika Padukone's latest release, Yeh Jawaani Hai Deewani is doing great business at the domestic Box Office as well as overseas. And apart from her chemistry with ex-boyfriend Ranbir Kapoor, her bespectacled look has also become a topic of discussion. We've learned that the actor — who maintains that her character, Naina Talwar, is very close to her real self — wants the glasses she wore in the film as souvenirs.
When asked, the actor says, "Naina is a special character for me. The glasses helped me live that part. I'd like to keep them as a memory of her."
An insider close to her adds that Deepika asked Karan Johar (the film's producer) to send her the glasses: "She's emotional about the character, and the glasses were an important part of it. Also, people kept calling her 'chashmish' (a term she was addressed as in the film too)."
The spectacles are currently with the team at Dharma Productions, but Karan has already given them instructions to send the pair to Deepika. "She has never worn glasses in her other films, so she wants to keep these as a souvenir. She's also relieved that the audience liked her bespectacled look," says the insider.