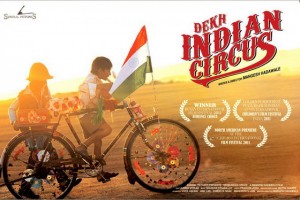 Dekh Indian Circus has been doing the round of festivals, winning accolades and praises along the way. It won the Audience Choice Awards at the 16th Busan Film Festival in South Korea. The film has also been in the press for various reasons with co-producer Vivek Oberoi stepping out and director Imtiaz Ali (Jab we met, Rockstar) and producer-director Vidhu Vinod Chopra (Mission Kashmir, 3 Idiots) stepping in to support the film. It is now part of the 3rd London Indian Festival and Bollyspice was there to catch a preview of the film, read on to see what we thought…
Dekh Indian Circus is the debut Hindi feature from director Mangesh Hadawale, whose first film Tingya was in Marathi, which also won many awards. Here Hadawale opts to cast non-mainstream actors in the lead with Nawazuddin Siddiqui as 'Jethu' and Tannishtha Chatterjee as 'Kajro'. You may remember Nawazuddin from films like Peepli Live, whilst Tannishtha is best remembered for playing the main role in the film adaptation of Monica Ali's Brick Lane.
Here though she plays a strong, feisty and outspoken woman which was a delight to see, in contrast to the typical patriarchal role of women in Bollywood films. The word was that Hadawale first approached Rani Mukherjee to play the role of Kajro, but having seen Tannishtha's performance, you would think he made the right choice. Ditto for Nawazuddin's restrained performance, his role was first offered to director Imtiaz Ali, but again having seen him here and also in Anurag Kashyap's Gangs of Wasseypur (he played Manoj Bajpai's son), this is clearly an 'alternative' actor to watch out for.
The film is set in the rural heart of Rajasthan and is based around a couple in the lower strata of society and their two children. It focuses on their socio-economic trials and tribulations and the mother's promise to take her children to the circus show which has come to town. This is set against the backdrop of a local election and the corruption which flows from it. Where votes are bought from villagers, with the false promise of food and hope.
The concept of the story is very simple and is narrated well, with some amazing cinematography and shots of Rajasthan. The music, which is provided by Shankar-Eshan-Loy (Zindagi Na Milegi Dobara), blends really well with the film and the acting from the lead cast, including the two children Ghumroo (played by Virendra Singh Rathod) and Panni (Suhani Oza) are both amazing and a pleasure to watch.
The real beauty of the film however, lies in its subtle plot nuances. It depicts a modern India, where there is still inequality, social injustice and political corruption. Regular aspirations such as education and wealth are still so hard to obtain by many, yet despite this there is so much talk of India becoming one of the world's next super powers. In that sense it is very much a satire on the state of the nation, you have poor villagers who can not afford to eat, but yet all have mobile phones.
It is easy to see what charmed people like Imtiaz Ali and Vidhu Vinod Chopra. The film is a beautifully told story, which although simply told, is held together by comic moments, simple exchanges, emotion and touching performances. It is indeed a film that needed to be championed in order to get it an audience beyond the festival circuit. Whilst it comes highly recommended for world cinema enthusiasts, one hopes it will equally find viewers from more mainstream audiences, as this is certainly one gem of a film! Dekh Indian Circus does not aim to be preachy, but will certainly leave you with food for thought…
Be sure to catch the trailer here:
httpvh://www.youtube.com/watch?v=_tQHyYsyRPw