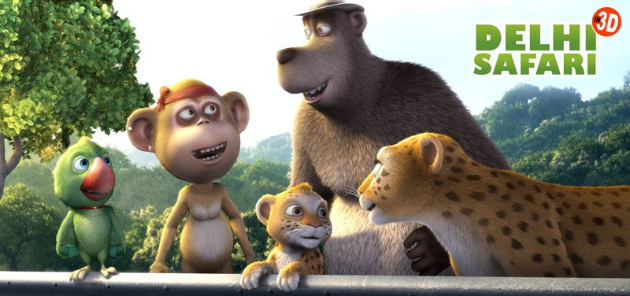 Directed by Nikhil Advani and produced by Krayon Pictures, Delhi Safari is India's first world-class 3D stereoscopic animation feature film. It is an empowering yet fun-filled story of a motley group of 5 animal friends who embark on a wild journey from Sanjay Gandhi National Park, Mumbai to the Parliament House in Delhi to protect their right to safe homes. The film highlights the problems of deforestation and importance of protecting natural wildlife habitat. The award winning film is a complete family entertainer with world-class animation, Bollywood-style masti, memorable characters and a global message.
Krayon Pictures recently held a very cool event for the film in Ranthambore National Park. Delhi Safari was given a special screening at the park for 1000 school kids from local areas, who encounter the issues depicted in the film on a daily basis.
Talking about the event Rashmi Ahad Director Media & PR for Krayon Pictures told us, "There were more than 1000 kids and 400 adults, all from nearby villages. First they were wondering what is happening, they were all jumping down from canters that were sent to pick them up from schools and their homes. They saw our standee with gleaming eyes."
Ahad said that the as once the film started there was laughter, smiles, jumping and dancing during the first song, but then suddenly the buzz stopped when a pivotal sad scene occurred. "One small 7 year old boy came to us and asked 'woh baad mein zinda ho jayega na? sher ko nahi marte'."
Another incredible thing happened during the screening, "There was an amazing applause during Alex, the bird's dance. There were kids enacting "marela bharela". Suddenly we realised the kids sitting on the ground had reduced. Guess where they were…. on top of trees and a boundary wall. They were living the film." (And the writer and the readers go Awwwww)
When they asked the kids who there favorite character was, they answered Bajrangi, the bajrang bali.
She adds, "The smile on their faces was different when they understood "Boman bhaiya bhi hamare jaise sochte hein woh tiger se mile hein.…".
Ahad says the screening was not only a great success but that the children loved the film so much that they want everyone in their area to see this film. "Some children were dressed up as animals and were telling us how each child in Ranthambore wants to watch the film. They requested us to send CDs once Delhi Safari released and 45000 children would see what they face as a daily routine living closest to the forest as depicted in our film."
Adding, "I think the innocence, the honesty of saying, "this is the best film" by the grown ups and children from these villages was the best compliment for us."
Bollywood stars such as Boman Irani, Govinda, Akshaye Khanna, Urmila Matondkar, Suneil Shetty and Swini Khara have lent their voices for the Hindi version of the film, and the terrific trio of Shankar-Ehsaan-Loy has composed the music. Delhi Safari releases on October 19, 2012.
For more information, please visit Delhi Safari's Facebook page (http://www.facebook.com/DelhiSafari).