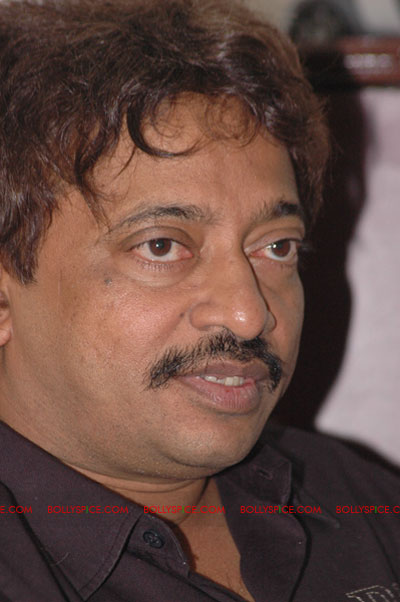 Ram Gopal Varma is director known for his hard-hitting dramas with tense story lines, action and of course incredible performances from the actors in the film. You have seen his work in the brilliant Company, the Sarkar films, Satya and so many more. As a director he likes to explore the darker side of life and present it in a really cool and very compelling dramatic way. For Department, which released today, he turned his lens, well several lenses, on the police and the power struggles within when they create a new unit to combat crime. The films stars two of the biggest and best Amitabh Bachchan and Sanjay Dutt and a young actor who is following in their footsteps with some powerful performances, Rana Daggubati. We were able to catch Mr. Varma for a very quick chat about Department.
Talking about what inspired the idea for the film, Mr. Varma said, "Over the years because of the kind of films I make like Satya and Company I've been in touch with real cops and in some chance conversations I heard that one thing that police do in certain situation of extreme crime is they created a unit, which was really, really constituted, because it doesn't have a legal status, but it was formed for the purpose of eliminating crime. They are on the extremes of justice but their methods are real and legal. So that's the reason I wanted to call it Department because we can't say what department it is all about."
One of the coolest things about Department is that the film was shot in a different way and different style… "Yes, I shot it with very different methodology. It is an unconventional way on how films are usually shot. I used multiple cameras, actually eight different types of cameras, which are very small in size but they create angles and movements of the scenes. So that will be a completely new viewer experience when they are watching the film. The film's holding point is the story and the technique is just a question of how you enhance the given emotion of the scene and of the characters intent. So to that extent I think the methodology which I adapted will make sense there." Some of the cameras used were 5D, 7D, Lumix, Gopro, Sony Nx5 and 60D.
He added, "I don't use lights in the film at all. And I didn't use a director of photography in the film."
Moving on to the incredible cast:
Sanjay Dutt
See Sanjay I've worked with very long time back in Daud, which is more than twelve-thirteen years back. I always wanted to see him in a very hard-hitting intense action role, which is what I think Department is about. To that extent I feel, because normally his last few films you have seen him in comedies, you'll see a very different Sanjay Dutt in Department.
Amitabh Bachchan
He such a versatile actor that whatever you throw at him, he throws it back with double force.
Rana Daggubati
He's got the personality, he's got the height, he got style to him which is very big and is what I call a man actor, he's not boyish because of his personality and it very much falls in line with the kind of character he plays in Department. He's done extremely well.
So what can we expect when we go to the theater? "The audience will see a very high intensity, hard-hitting drama. The action sequences are done very stylishly unlike my earlier films like Company and Satya. It will be a very so called dialoguebaazi film. The picture has been shot in a very graphic kind of style; like I said the angles and movements it's something that no one has ever experienced.
Adding that he chose to do the action more stylishly because of the type of film Department is, "I feel every film calls for it's own tone and way of capturing the drama and Department in itself and story welcomes this kind of style."
We also asked him why he is drawn to the more dramatic stories for his films? He answered, "I think there's a necessity to make films which power backdrops and conflicts in Mumbai, larger than life people. Simple people and simple stories bore me."
Discussing Hindi films and the fact that it seems that more and more content is winning he said, "See always without doubt content will remain the king because eventually the audience will come only if there is content. But in cinema I think it's very difficult lots of times to separate technique from content because technique is a way of telling the story where the story is of course is the story."
The story of Department:
"Alarmed at the hitherto unseen escalation in underworld criminal activities some top officials including the home secretary, the home minister, and the director general of police hold a secret meeting in which they take a decision to create a new unit which is unofficially referred to as 'The Department'. They summon a man (Sanjay Dutt) who had a certain reputation in the police to head 'The Department' and he in turn choses a team to assist him. This man and a protégé (Rana Daggubati) of his from the team emerge in the front line of the department's operations and under the tutelage of a gangster turned politician (Amitabh Bachchan) in no time literally finish off the underworld but in the due process they become the underworld themselves. Department is going to be primarily about the circumstances under how these two men were parented and about their deadly relationship with each other."
Department is in theaters now!