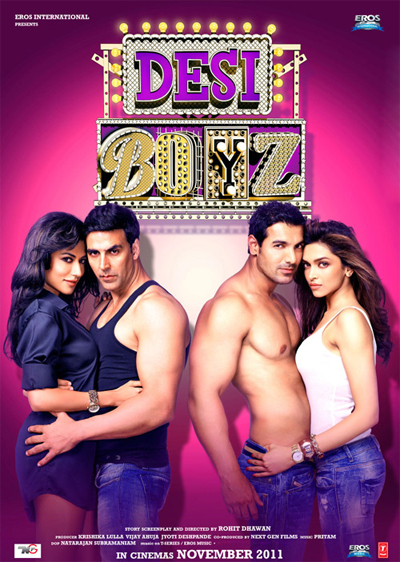 There were a few reasons one would have been looking forward to the release of Desi Boyz. Not only did the movie mark the return of the two hunks following the success of Garam Masala in 2005,Akshay Kumar and John Abraham, but it was also heavily anticipated because it would carry on the run of successes of male-centric films. The last few years have seen a number of such films; Zindagi Na Milegi Dobara, Delhi Belly and 3 Idiots to name a few. With fresh looking promos which have created a lot of excitement, Desi Boyz was sure to be a film to watch… or was it?
The main focus of the movie is the "brother from a hotter mother" friendship between two gentlemen living in London's Canary Wharf, Nick (John Abraham) and Jerry (Akshay Kumar). Nick, an MBA graduate, has an office job and an apartment where both he and Jerry reside. Jerry, on the other hand, does a few odd jobs here and there but doesn't have much stability apart from that. The two couldn't be more opposite. Recession hits them both and they are forced to become male escorts to ensure they both have money coming in and, more importantly, to show Jerry can get custody of his nephew, Veer, following the sad deaths of his sister and brother-in-law. Problems arise when Nick's girlfriend, Radhika (Deepika Padukone), catches the duo red-handed.
As an overall benchmark, it would be safe to say that the movie has its good and bad moments. The plot is stronger in some places more than others and this is perhaps where the film falls short. Once it grabs your attention, it's unable to keep it all the time. However, it has to be said that the freshness and contemporary feel given to the sets and locations is effective for the plot. Filmed in various locations in the UK such as Brighton and Docklands, the backdrops of the film are one of the few plus points.
As performances go, Abraham and Kumar share a truly exceptional chemistry on-screen. They both look great in Desi Boyz, good enough to give the newbies a run for their money. Their performances were admirable but it would be wrong to say that the roles were in any way challenging for either of them. Padukone and Abraham's new jodi is one that should go far. They not only compliment each other in appearance but also seem to tie in well with one another performance-wise. Chitrangda Singh, who plays Kumar's love interest, is a much-needed breath of fresh air. Her pairing with the Khiladi is also a good one and should be taken notice of. Singh's performance as a sexy university lecturer ticks all the boxes, but quite frankly, there wasn't much in the role to be able to judge the kind of talent she will prove to be according to the forthcoming films she chooses to sign. The child-star, Shraman Jain, who plays Jerry's nephew, truly shines.
The film also incorporates a few cameo appearances that are worth a mention. Sanjay Dutt plays the "owner" of the Desi Boyz brand and the background theme music of Khalnayak makes a dismal attempt at authenticity. Omi Vaidya brings memories of 3 Idiots while playing Radhika's (Padukone's) date. British comedian Jeff Mirza can be seen as the boss of a fast-food joint that Jerry works at.
The soundtrack of Desi Boyz, although consisting of some preppy and feel-good songs, won't be one that stays in the audiences' hearts and minds for very long. Having said that, the popularity of the tracks has gathered momentum over the weeks coming up to the release of the film, namely the title track (featuring Abraham and Kumar topless), 'Jhak Maar Ke' and 'Allah Maaf Kare'.
To conclude, it's wrong to say that Desi Boyz will have you filling up with tears or laughing until your stomach hurts. In fact, it is a movie that sits very neatly between those two extremes in that it will make you laugh out loud in some places and it will also make you feel a little emotional in a few too. Nevertheless, the film's underlying theme of friendship does well to bring warmth to the heart. Desi Boyz will leave you feeling a little bit more thankful for the friends who remain loyal even behind your back.