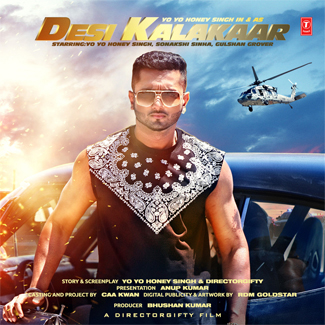 Desi Kalakaar is the latest album from acclaimed Indian pop star and rapper Yo Yo Honey Singh. In just a short space of time, this young Punjabi artist has had a phenomenal impact in India and has a strong fan following across the world. He is popular not just in Indian pop music, but also in Bollywood music where he has lent his voice to major superstars like Shah Rukh Khan, Akshay Kumar and Salman Khan. The music and lyrics have also been produced by Singh, with Lil Goju having co-written the lyrics for three of the songs. During the launch of the album, Singh dubbed it as more of a 'romantic dance album' than anything else and considers it to have 'a long shelf life.' Is he right on the latter? Read our review of his latest album to see what we thought of it.
So to start off, we have Stardom, which features Mansheel Gujral and Lil Golu as supporting vocalists. This one just falls flat before the song even hits its peak. It's literally just the same old techno and bass music which we've heard many times before in other songs which Singh has produced. It would have been nice for him to experiment with other types of music in order for us to see other facets of him. I certainly would have loved to have seen this with this particular track, which is dreary and forgetful. However, a special note of acknowledgement should go to Mansheel Gujral who lets out some sturdy vocals which makes you think she should sing for the next James Bond film.
Love Dose is next and I am sure that this will be loved by all the boys. I think the standout part of the song is the rap element by Singh mid-way through the song. It is certainly appealing and catchy and Singh has done a good job with this particular track. The music contains some unusual sounds that have been interspersed with light Western elements and bass. However, I think Singh's rap is the ultimate highlight, which makes this song a winner.
Next up is One Thousand Miles. I like the use of the guitar, which builds up nicely as the song progresses, which is then overthrown with some decent club-themed mixes. I also found Singh's vocals to be catchy and well-delivered. After having listened to the song; you will find it still playing in your mind (which is the ultimate aim of any song). Do check this one out and see if you agree with us!
Following this is the much-talked about title track Desi Kalakaar. This one has a cool R&B vibe to it and this is apparent when you hear the smooth bass and techno elements that have been included in the composition. The music flows well throughout and it just makes you want to groove to it, with the piano giving a nice touch it also. I also enjoyed the lyrics, which has been well-written by Singh. I really appreciated Singh's vocals in this song and he doesn't disappoint at all with his tuneful voice. I especially love the nine minute video to 'Desi Kalakaar,' which features the beautiful Sonakshi Sinha as his lover, with Gulshan Grover playing her dad. Sonakshi shimmers and the chemistry between her and Singh is surprisingly quite electrifying. I think 'Desi Kalakaar' is definitely one of the best Indian pop songs to release this year and it is absolutely worth every minute of your time! Don't miss out on this cool number!
We also have Tonight I'm Your DJ. This is very much a hefty club anthem with some thumping bass and drums being played throughout. Though the lyrics are mostly in Punjabi, I think this experimental number works to some extent. It's not the best, but Singh deserves praise for attempting to bring clean hip-hop alive in India with songs like this one. Some of the rhythm here does catch onto you, which is why I think it will appeal to many music lovers. Try it out and see what you think!
Next is Chal Mere Ghar, which was a bit disappointing for my liking. The stand out instrument is the piano which like 'Desi Kalakaar,' is a way of giving the song a smooth and sensual touch to it. Yet for me personally, it just did not work in many places and the short length of the song does not help you to reconsider your judgement either.
Finally to close the album, we have Daftar Ki Girl, which has been respectably composed and contains a mix of sounds and flavours that will appeal to today's youth. However, I found it to be average overall and it's not in the same league as 'Desi Kalakaar' or even 'Tonight I'm Your DJ.' I think it's a song which you will enjoy for the first minute and then have the urge to move on and see what else this album has to offer.
To sum up, I found Yo Yo Honey Singh's latest album to be good, but by no means great. The standout tracks are definitely 'Desi Kalakaar,' 'Love Dose,' 'One Thousand Miles' and 'Tonight I'm Your DJ.' Though the album is quite decent, it could have benefited from some more different sounds and flavours which we don't regularly associate with an artist like Yo Yo Honey Singh. I think eventually people will get bored of his club-oriented tracks and thus; hopefully he will indulge in music that out of the box and which his fans will consider to be fresh. As for this album, I think it has some good qualities to it; though it won't appeal to everyone.