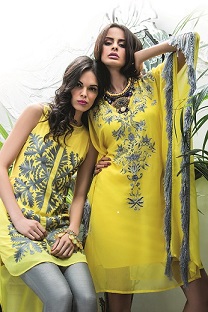 Pioneering British Asiancouture designer Raishma Islam has unveiled her highly anticipated prêt collection on her revamped online store. The inspired range features a stunning new selection of Raishma's beautiful creations reflecting her inimitable blend of eastern style fused with contemporary fashion. The chic avant-garde collection created for the prêt line, is available exclusively on www.Raishma.co.uk
Understated yet ultra-feminine the new collection features an exquisite array of churidar suits, kaftans and tunics and glamorous red-carpet-ready gowns. Renowned for her beautifully crafted and versatile garments, Raishma's latest line embodies some of her trademark characteristics that made her outfits a firm favourite for the red carpet, sealing the label's status as offering must-wear, front-row style.
Featuring stunning appliqué, intricate hand-beading and playful details, the collection offers something for everyone. Expect to see striking shapes, bold patterns and elaborate beading set against vibrant shades, inspired embellishments adorning outfits of subtle pastel tones, and beautifully executed lacework that would suit any occasion. With an eclectic, yet highly co-ordinated look, the Raishma SS14 range will see you right through the season from dinner parties and summer barbecues to weddings and receptions.
Raishma is for the first time ever, launching a spectacular range of contemporary sarees. Featuring bold stripes, stunning prints and quirky butterfly designs, the sarees offer a unique and modern take on this very traditional but timeless garment.
The sarees are superbly adorned with intricate hand-beading on crêpe georgette – a sheer, lightweight fabric that drapes around the body beautifully without adding unnecessary bulk.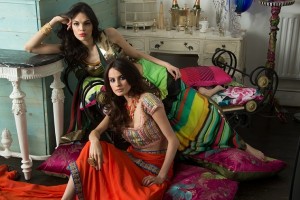 Raishma also launches her new collection of accessories featuring bags and pashmina scarves. Distinctive, hand crafted beading, adorn the colourful range of clutch bags that perfectly complement the outfits. Ranging from vibrant zesty shades to classic understated neutrals, the clutch bags feature ornate clusters of crystals and gemstones, which add some glitz and glamour and complete the ensemble.
Of the ready-to-wear line, Raishma commented: "I'm very excited and proud to launch my new pret line. It is the culmination of a long period in sourcing the right fabrics and designing on-trend outfits and embroidery to truly represent my signature looks. The blend of eastern traditional and contemporary fashion, encapsulates the very essence of multicultural Britain of today. The collection is not only distinctive in design, which is a very important quality for me to maintain, but also stylish and unique. Designing has always been my greatest passion, so I'm thrilled to finally be able to share my exciting new vision with fashionistas all around the world. I hope everyone who visits the Raishma online store finds what they're looking for."
Established in 1998, the Raishma brand quickly became synonymous with high quality, cutting-edge style. Having trained under distinguished designers Elizabeth Emanuel – famed for creating Princess Diana's wedding dress and Bella Freud, the haute-couture designer has since developed a high-profile repertoire of royal and celebrity clients including, Princesses Eugenie and Beatrice, Mel B, Laila Rouass and Juliet Stevenson, and British-Asian stars Meera Syal, former EastEnders's actress Preeya Kalidas and ex-Corrie star Shobna Gulati among others.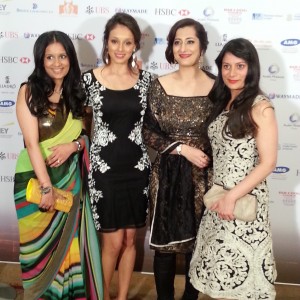 More recently, Raishma's outfits were worn at the Asian Business Awards gala event by not one, but three outstanding talents; BBC presenter Sonali Shah, who looked elegant in the bold striped saree, Wright Stuff presenter Seema Pathan, who looked stunning in the black beaded cocktail dress and film actress Goldy Notay who opted for an elaborate lace creation.
The brand new collection is available exclusively on the new website, www.Raishma.co.uk which features not only Raishma's exquisite designs, but also includes collections from other leading labels. What's more, for each season's new collection, Raishma will personally hand-pick items from other sought after designers to ensure that customers are given a variety of choice in a 'one-stop shopping environment'.
Website: www.Raishma.co.uk
Facebook: /Raishmabrides
Twitter: @RaishmaCouture