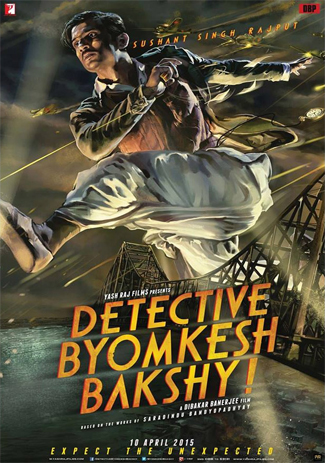 The highlight of any Sherlock Holmes story is never the story itself. When you look deep enough, there is always a dot point path that will lead to the solution for any puzzle. The allure of the clues and the unconventional mix of various fields from science to mythology. These form the highlight. All that forms the brilliance that is Sherlock Holmes and the madness as well, is but the stepping stones for Detective Byomkesh Bakshi as written by Sharadindu Bandyopadhyay. Even as Holmes overwhelmed the world, this Bengali Babu still had his own quirks and traits which made the stories and subsequent TV show so successful.
So with reliance so heavily on its main character for both stories, the casting director has a major pair of shoes to fill for this feature film adaption. Sushant Singh Rajput tries very hard to step into Byomkesh Bakshy. It may be a deliberate change by the writers Urmi Juvekar and Dibaker Bannerjee to bring out a boyish Byomkesh Bakshy. Unfortunately, given that the original series is about an experienced mid-to-late 20s sleuth, mincing words and playing aloof isn't a part of the character which Rajput's version brings out. This acts as a black spot in Rajput's otherwise outstanding performance.
As newbie to the character Sharadindu Bandyopadhyay brought to life, it is a pleasant surprise to see Dibaker make a film quite different to the usual suspects at the box office. A tale of a missing person takes our simple genius on a goose chase at every turn. No one can be trusted and nothing is as it seems. Sure, there is a Watson and Moriarty to the Bengali Sherlock, but the magic comes full circle at the climax as all the pieces, and people, fall into place. While Sherlock may have more elaborate ways to tie everything in, Bakshy follows something of a different rule. The simplest idea will be the solution once all others are ruled out. What this means, is something you have to see to understand.
Superlative is really all you can say when it comes to the remaining cast. Be it Anand Tiwari as Ajit, who gets the ball rolling, or Pradipto Kumar Chakraborthy who plays the ever chai-making Puntiram. Each and every one makes a mark. There are literally not enough words to express the delight of watching a cast so effortlessly flow in a story and create magic with characters that are filled out just enough for a suspense thriller.
It would be naive to think there is any singing or dancing in this film. Right from the first teaser, it was evident the naachgaana variety of songs were not a part of the film. Sneha Khanwalkar, Madboy/Mink, PCRC, IJA, BLEK, Mode AKA and Joint Family, whose Life's a B@£%h was used in the trailer, form the independent music composers which in its self, is a change. 'Calcutta Kiss' may stick with you thanks to Lauren Gottlieb, but the soundtrack is definitely an acquired taste. Yet when you look at the film, with its spot on cinematography and almost OCD level set design, the usual background score would not fit in. Dibaker has infused the raw and violent reality of crime and war on screen, so an equally unearthing background is to be expected.
The issue with such a film is now with keeping the connection with the audience. While the director and his crew have definitely worked hard to keep the film in tact and as close to the era as possible, tying up loose ends and keeping the momentum would have given an extra edge over the audience. And yes, you can overlook the reality sometimes stepping into Bollywood logic since for the most part, it doesn't stick out like a sore thumb.
So the final verdict, Detective Byomkesh Bakshy is not your average suave, sophisticated sleuth. He makes mistakes, takes heroin to prove a point and dabbles in politics. But you have to admit, the detective has a method to his madness.