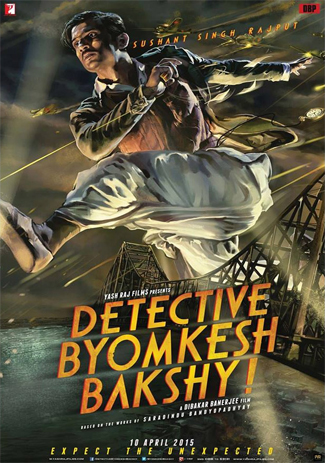 Detective Byomkesh Bakshy is the much-awaited crime thriller starring Sushant Singh Rajput as the titular character. Directed by Dibakar Banerjee, the film also stars Anand Tiwari and Swastika Mukherjee and is scheduled for cinematic release on 3 April 2015. The music has been composed by a range of musicians, such as Sneha Khanwalker, Madboy/Mink, Dibakar Banerjee, Blek, PCRC, Mode AKA, Joint Family and IJA. So, what does the music to Detective Byomkesh Bakshy have to offer? Read on to uncover our verdict!
So to kick off the album, we have Calcutta Kiss, sung by Imaad Shah and Saba Azad. The song has some lovely jazzy flavours, that includes instruments like the trumpet, drums, piano and the guitar. I found it to be a very unconventional song for Bollywood, yet at the same time, I very much enjoyed it. I appreciated the unique styles and tone of the song which is very pleasurable to hear. Give it a listen and see what you think!
Next up is Bach Ke Bakshy, which has been performed by Gowri Jayakumar, Big Deal, Thomson Andrews and Trevor, with rap sequences by Smokey the Ghost, Craz Professa. The song is quite odd and I found it to be quite silly and dull also. I found myself drifting away from it mid-way and is therefore lacking in something that is as engaging as 'Calcutta Kiss'. Sorry to say but I think this one is worth skipping.
Following this is Byomkesh in Love by Rishi Bradoo, Anil Bradoo and Usri Banerjee. I like how the song kicks off with some nice execution of the electric guitar. This one has a strong Western feel to it, especially as there are portions of the lyrics which are in English. I found this one to be totally different to what I have heard before in Bollywood, just like 'Calcutta Kiss'. It's bold yet powerful on the ears. Try it out for yourselves and see what you think!
Jaanam is next and has been sung by Suryakant Sawhney. It starts off with a 1950s feel to it, with a range of big bang instruments that are delightful to listen to. I also love Suryakant's vocals in this particular track and it adds to the overall texture of the song. Again, not your typical Bollywood number but it is a winner overall.
Next up is Chase in Chinatown, which has been performed by Vyshnav Balasubramaniam, Sandeep Madhavan, Manas Ullas and Akshay De. I love how this one builds up and there are a range of techno flavours that give a masculine tone to it. Even the vocals have been played with and it works well with the general theme of the song. Overall, this is another lovely addition to an album which just keeps getting better and better as you listen on.
Following this is Life's A Bitch and has been sung as well as written by Akshay De. This one is just pure heavy metal and sounds like something you would hear in a Slipknot album or even as part of a WWE wrester's entry theme music. There are heavy uses of instruments such as the drums, electric guitar and bass which adds power to the song. There is not even a trace of Bollywood in this one and it is purely a Western composition that has been produced by an Indian musician. This makes the song all the more exciting to listen to knowing that someone from B-Town is responsible for the making of this very, very unusual song.
Finally we have Yang Guang Lives by IJA. This one is largely just plain music which I am assuming is part of a key sequence in the film. There is not much to write about with this one and it quite a bland piece of music overall.
To sum up, I absolutely loved the music to Detective Byomkesh Bakshy and consider it to be radically different to what I have heard before in Bollywood. It is bold, edgy and drilled with lots of sounds which you will find enjoyable. We say this one is worth putting on your playlist and it will probably have a positive impact on the younger generation. In short, the music to Detective Byomkesh Bakshy is powerful and brilliantly composed!