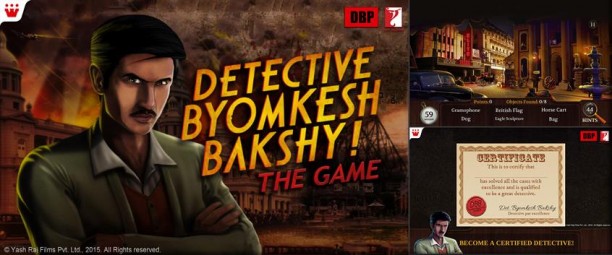 Games2win ("G2W") the global mobile games company announced their second game "Detective Byomkesh Bakshy" with Yash Raj Films Licensing ("YRFL"), the licensing division of Yash Raj Films ("YRF"), based on the forthcoming highly anticipated movie from Yash Raj Films and Dibakar Banerjee Productions – Detective Byomkesh Bakshy! directed by Dibakar Banerjee starring Sushant Singh Rajput.
The deeply engaging game, currently available on the Google Play Store, is India's first Movie-based Hidden Objects game. Hidden Objects, as a category, is very popular worldwide amongst users of all age groups. Games2win has masterfully merged a popular game engine and a legendary movie character to create the iconic Detective Byomkesh Bakshy! The Game based on the iconic central character of the popular Detective.
Says Alok Kejriwal, CEO and Co-Founder – Games2win, "We are delighted to have made a fantastic game inspired by the legendary IP of Byomkesh Bakshy. The game play of being a detective & solving almost real life criminal cases is the magical proposition of this game. It's amazing that the hidden objects mechanic of the game and the detective theme of the movie are perfectly synced!"
"Detective Byomkesh Bakshy! is a very intelligent and entertaining film and we are happy to say that the game has turned out excellently! We hope fans of Detective Byomkesh Bakshy! experience and enjoy the thrill of their favourite character while playing this game," shared Rohit Sobti, Vice President – Licencing and Merchandising at Yash Raj Films.
Get the Detective Byomkesh Bakshy! The Game NOW so you can enjoy many of these exciting moments!
· Play the role of an apprentice who graduates step-by-step to become a detective via role-play with the thrill of finding more than 200 objects to be in the game
· Solve criminal cases while assisting Detective Byomkesh Bakshy as game play modes change from case to case, giving a real life feel of being a detective
· Enjoy artwork which has been intricately crafted to recreate the look and feel of Byomkesh's 1940s Calcutta
· On completing all the levels, be ready to be awarded a 'Detective Certificate' which can be proudly flaunted on social media