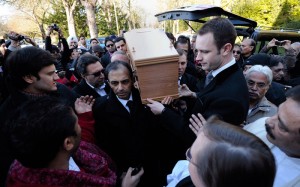 Bollywood fans, reporters, friends and family of Bollywood legend Dev Anand attended his funeral in Putney Vale Crematorium over the weekend.  

Earlier last week, Anand's family and friends spoke to reporters in London at a press conference where they announced the place and time of the funeral.

Pallbearers had to push their way through fans and reporters to take Anand's casket to the crematorium in  south-west London on Saturday. 

Anand died of cardiac arrest at the Washington hotel in the capital on December 3 after traveling to the UK for a medical checkup. He was 88 years old.

The film star's ashes will be returned to India for immersion burial in the Godavari river.