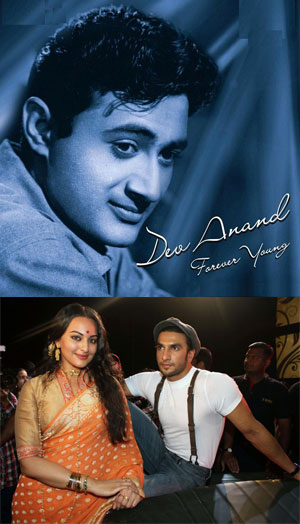 The world last month unfortunately said goodbye to the evergreen legend Dev Anand but soon may have a chance to see his songs come to life for a second time.  Producer Madhu Mantena plans to have Ranveer Singh wooing Sonakshi Sinha with some of the legends biggest hits in the up coming action adventure Lootera.
According to sources, Madhu plans to apply for rights to the songs as he plans for them to be placed in the film keeping the mood and flavour of the originals.   Apparently, director Vikramaditya Motwane is so taken by this idea that he even wishes to shoot the songs in a traditional black and white.
Ranveer, who is a huge Dev Anand fan would be shown as a fan of the actor in the film, sporting all the similar characteristics and traits that fans came to know and love about Mr Anand. Producer Mantena commented about the Dev Anand influence in the film saying, "We're most certainly going all-out to get the mood right. Beyond that it would be premature to reveal our exact plans. Vikramaditya would be the best person to throw light on how Ranveer's character will be presented in Lootera."
While on the promotional trail for his recent film Ladies Vs Ricky Bahl, Ranveer did mention, "Lootera is the only film that I've signed after Ladies Vs Ricky Bahl. Of course, there's a huge amount of preparation involved. Though the film is set in Kolkata, I don't play a Bengali."
Lootera will be set in 1950s Kolkata and will have Ranveer playing the swashbuckling hero. Given the vintage look required for the film, Ranveer has reportedly asked for some time to prepare for the role. It also appears that recreating the vintage look has been an issue for producers with costs rising to the Rs. 60 crore mark.
Nevertheless fans will look forward to not only hearing Dev Anand's original songs back on screen but also seeing the hot new pairing of Bollywood's bright young talents – Ranveer Singh and Sonakshi Sinha.