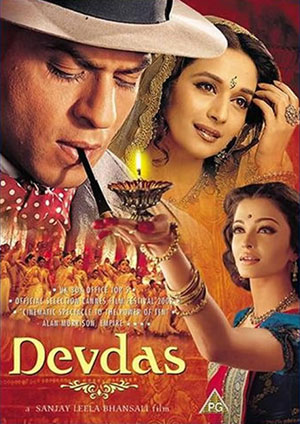 The Hindi film industry is clearly gaining momentum on an international stage as the 2002 hit Devdas is honored by TIME Magazine, who last week released a list of the greatest movies of the millennium, thus far.
Hollywood movie critic Richard Corliss compiled a list of the 10 greatest films made since the year 2000 and lists the Shahrukh Khan and Aishwarya Rai Bachchan-starrer at number eight, calling the film a "visually intoxicating musical" that introduced "sang-and-danced Bollywood drama to the international culturati."
Director Sanjay Leela Bhansali believes the honor is well-timed, almost 10 years after the film's initial release. "For a mainstream Hindi film like Devdas to gain such a cinematic recognition and be a part of such an illustrious list is an honor, not just for me but for [the] Indian film industry at large," Bhansali told reporters. The movie, which was the most expensive production of its time, was also widely honored by Indian film academies like Filmfare and IIFA.
TIME Magazine honored Devdas alongside other Hollywood hits such as Avatar (2009), The Lord of the Rings (2001-03), and WALL.E (2008), which took the number one spot.
This isn't the first time Devdas has been recognized at an international scale. The British Academy of Film and Television Arts nominated Devdas for Best Foreign Language film in 2003 and the film was also screened at Cannes.
According to Bhansali, Devdas will soon be re-released in 3D to commemorate its tenth anniversary.