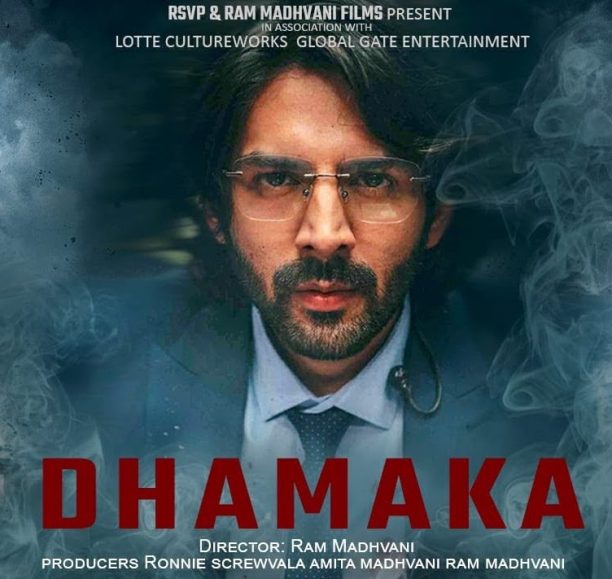 When it comes to thrillers, Bollywood cinema sucks. Just when Harry is about to explode Sally's valley, out comes a song or a comic break, or whatever. In brief, Bollywood thrillers don't know how to hold still.
Going by the trailer I think Dhamaka, to stream on Netflix from November 19, will be a game-changer. It seems to be a no-nonsense, zero-humbug thriller. The set-up for the plot is a bustling newsroom with a bossy CEO(the wonderful Aishwarya Rajesh).
And just a minor detail, but greatly important given the edge-of-the-seat context, this is Kartik Aryan's first film with no songs…at least none that I heard in the tense tactile tormentingly tapering trailer.
What I did hear were bombs exploding. Did I tell you the trailer is, ha ha, explosive?
Kartik Aryan, lately open to new challenges, plays Arjun Pathak. He is one of those anything-for-TRPs journalists. And I can an understated suaveness in the performance. He is coping with a terrorist who won't stop at anything and a divorce proceeding simultaneously.
So when a terrorist with a Bihari accent named Raghuveer Mahto offers him a scoop that he, Arjun, cannot refuse, he doesn't.
This is a cat-and-mouse game played at a steep octave. Luckily for us Ram Madhvani is a director who knows how to hold that pitch when it creeps up to a potentially shrill crescendo. Cleverly enough the trailer reveals more than it conceals. One of the biggest mistakes the perpetrators of the thriller genre make in India is to play lukka chuppi with the audiences' perceptions in the trailer.
Not this time. Not Dhamaka. It tells us exactly what's happening over there. There is a newshound and a terrorist and the two are positioned on both sides of the bridge on which stands Mumbai's future relationship with terror attacks.
Just as the future of thrillers in Bollywood depends to a large extent on whether Dhamaka delivers or not . From the look of it, we've got an outright winner here.\