To celebrate the release of the much anticipated film Shamitabh, BollySpice managed to catch up with two of the leading stars, Dhanush and Akshara Hassan. Both the lovely actors spoke about the film, their experiences of working on the project and how they hope it will be received out upon release. Enjoy!
Q: What was your reaction when you first heard the script?
Akshara: I'll tell you how I got the script actually. I remember there was a function with Balki Sir and he said to me 'Akshara do you have 5 minutes to spare?' And I said 'of course' and I was really excited. So he said to me 'I have this film I am making and there is this character I have you in mind for.' And I said 'are you serious' and was thinking in my mind 'oh my gosh' and this is a real honour.' He went on to tell me the synopsis and a week later I had a script discussion with him and he asked me for my thoughts. And I said 'count me in' and I really want to be a part of this film. So there was no looking back from there.
Q: Would you have still done this film if R. Balki and Mr. Bachchan were not a part of it?
Akshara: Yes, I would have and to be honest I can't see anyone else doing Mr. Bachchan's role the way he has done it. So if it did not have Dhanush, R. Balki Sir or Mr. Bachchan, I would have definitely still have done it because the film is so strong and beautiful.
Q: Dhanush, this is only your second Hindi film. What's the difference between working in Bollywood and South Indian cinema?
Dhanush: No there's not much difference when it comes to working in both industries. Cinema is cinema in the end and the aim of it all is to make great films. Hence, it's pretty much the same despite the fact that the country is known for so many languages and different types of industries.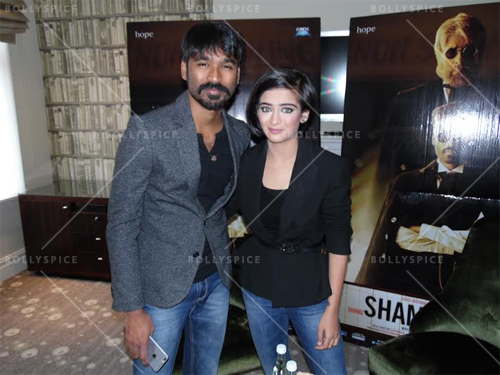 Q: Akshara has your dad (Kamal Hassan) played any role in grooming you as an actor?
Akshara: No not really. My mum was really the one who helped me prepare for acting, but my dad did give advice from time to time.
Q: Do you think this film will have the kind of impact you want amongst the audiences?
Akshara: I'm hoping for it to be that and let's see what happens upon release.
Dhanush: We would love for the film to be as big of a hit as films like PK or Queen. It would be an amazing feeling if that does actually happen. And if does then we will gladly take it.
Q: And how was it like working with Mr. Bachchan? Did you learn anything from him on set?
Akshara: Well being a part of a project with him in it is such a great honour. And with Mr. Bachchan I have honestly learnt so much. To see him come on sets as if it is his first film is incredible and that is just one out of the 100 things I have learnt whilst working with him. Yes he has that majestic aurora but you feel so comfortable and at ease. I would want to work with him more and learn more from him because he is such a humble human being.
Dhanush: Working with Mr. Bachchan was an absolute honour. He was really humble and supportive throughout the process. And I will always remember working with such a great actor who is an inspiration to millions.
Q: What's the one thing you will take away from Shamitabh?
Akshara: Everything because so much happened on sets while making this film. And I think Dhanush will agree with me when I say that every day was a challenge and Balki Sir is so unique and he comes up with so many unique ideas. Anyone's first film is special but Balki Sir and Mr. Bachchan made sure that it was even more special and memorable for me. I'll hold the entire experience very dear to me forever and ever.
Q: If you had to sell this film to someone who has never seen a Bollywood film before, what would be your pitch?
Akshara: Shamitabh is a very unique and refreshing film and very much out of the ordinary. So that would be my pitch I guess.
Q: Dhanush, what was it like being in the voice of Mr Bachchan and how difficult was it?
Dhanush: It was really difficult though a bit similar to miming in songs. The training and process of getting it right was a challenge but I think it has hopefully paid off.
Q: Akshara, this film is of course based on Dhanush miming to Amitabh Bachchan's voice. If you could choose one actress whose voice you would like to mime, who would it be?
Akshara: I honestly couldn't choose. There are so many actresses I admire but it's hard for me to pick just one.
Q: Finally, why should people go and see Shamitabh on 6 February?
Akshara: Like I said earlier, it's the same as my pitch. We have worked very hard on it and it's unique and different which I have not seen before and I don't think anyone else has seen before. I hope everyone enjoys it.
Dhanush: It's an amazing film, very different and I think people will be surprised by what they see.
BollySpice would like to thank Akshara Hassan and Dhanush for taking the time to speak with us. You can catch Shamitabh when it releases on 6 February!