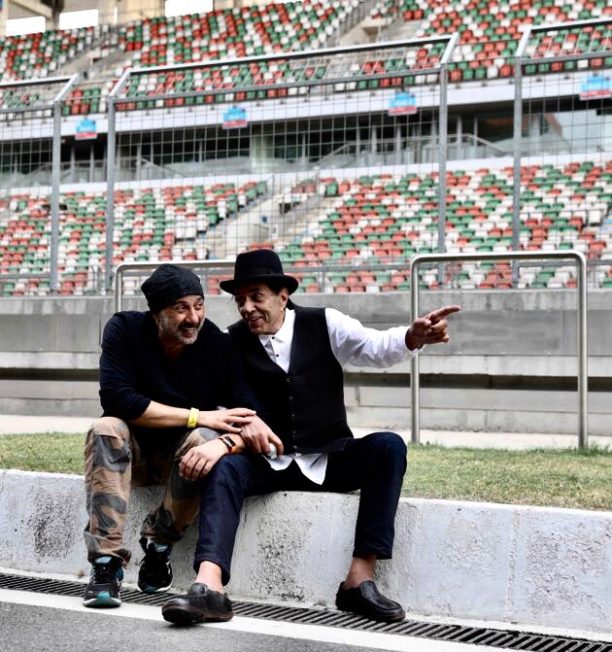 Recently, during the shoot of Sunny Deol's directorial venture Pal Pal Dil Ke Paas, starring another Deol kid Karan as a debutant, was surprised by an unexpected visitor. The team was shooting at the Buddh racing circuit in NCR, when Dharmendra arrived at the location and the moment turned intense and how!
Talking about his excitement to watch his Grandson soon on the big screen, Dharmendra said, "I was in Delhi for some work and had heard they were shooting some racing car sequences. So, I decided to drop by and watch my grandson in action. I didn't want to disturb them at work, so I didn't tell anyone I was coming. No one was expecting me par jaldi hi khamoshi khushi mein badal gayi. I could see the hint of tears in Sunny's eyes. He doesn't say much but being his father I notice."
The Deol's have always prioritized their family above everything else and the eldest son can't agree to it anymore. Sunny, after his papa's surprised arrival got him so emotional that everything appeared like a mirage to him. Amidst all of it, one of the most important scenes from the film was being shot, with high-end cars racing sequence, a technical crew from abroad and among the drivers is Gaurav Gill, the first Indian driver to win the FIA Asia-Pacific Rally Championship. Director confirmed it to be the most integral part of the script.
Adding to his statement, Dharmendra said, "I'd dropped by the Betaab (Sunny's first film) sets unannounced too and watched him playing football. My Kashmiri brothers and sister have since named that location as 'Betaab Valley' in a touching gesture of love. Over three decades later, I arrived to find Karan behind the wheel of a racing car and watched him on the monitor where he spotted me after the shot".
With movies like Dillagi, a love triangle featuring Sunny himself alongside younger brother Bobby and Urmila Matondkar, in 1999, Sunny Deol's endeavor as a director has been a decent one. He returned 17 years later with Ghayal Once Again and is now all prepared to launch his son and Seher Bamba in his third directorial project.
Talking about the kind of commitment 'direction' demands, Sunny said, "I was an actor who became a director and got back to it after a long time. I understand it a lot better now but since this is my son's debut film, there's a lot of pressure on me to make sure everything is right. I guess dad felt the same way when he was launching me. Now, being a father myself, I understand him better."
He went on to add, "Life's uncertain too. I come from a family of actors who are in this profession because we enjoy the work. If the work is good and the film works, you become a star. But we have remained actors because for us the biggest thrill is getting into character rather than focussing on learning other things we shouldn't be concentrating on."
Considering the fact that a star kid also has to undergo a lot of pressure, veteran actor Dharmendra agrees that launching Karan is a huge responsibility. He quoted, "Every father dreams of creating something beautiful for his child. It's Sunny's dream too and being Karan's gradfather I share it. But in a world of make-believe, success comes by chance no matter how hard you work. Fortunately, the love of the people has been with us through the last six decades aur duaayein bahut kaam aati hai"
On being asked if Karan is more like of his father or grand-father, Dharmendra added, "There's a bit of all of us in him but eventually he's a unique individual."
The film borrows its title from a song of Dharmendra's 1973 film Blackmail. Since the song is apt for a youthful romantic feature and plus is one of Sunny's favorite numbers, he couldn't think of anything else. Sunny added, "Love is so beautiful, precious and pure, till the cracks appear"
The team will travel to Manali for its next schedule and shall wrap up the film in Mumbai.