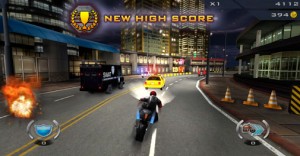 Dhoom:3 The Game – the Official game for the blockbuster movie of the year 2013 – Dhoom:3, has smashed through the 10 Million Downloads mark in just three months since its release across mobile platforms. Dhoom:3 The Game is Published by 99Games under a multi-year, multi-title license from Yash Raj Films Pvt. Ltd.,
"We are excited about the remarkable achievement of the Dhoom:3 Mobile Game surpassing 10 Million Downloads in only 3 short months since its release!" said Rohit Sobti, Vice President – Licensing & Merchandising, Yash Raj Films.
"Dhoom:3 The Game has bagged milestone after milestone over the past 3 months and today, it has entered an elite club – by crossing 10 Million download mark!" said Rohith Bhat, CEO of 99Games Online Pvt. Ltd.
Dhoom:3 The Game was released exclusively for Windows Phone 8 on the 25th of October, 2013 and within just 3 days of release it was featured on the Windows Phone Store. With a stellar run on WP8 and Nokia feature phones, Dhoom:3 The Game was officially launched on Google Play, iTunes App Store, Samsung Apps, BlackBerry App World, and has received significant marketing support from all game providers. Generating consistently high ratings from players, Dhoom:3 The Game became the first game made by an Indian company to exceed one million downloads on Windows Phone Store, and was awarded the 'Windows Million Downloads Club' trophy by Microsoft.
Featuring simple Tilt/Tap controls and an awesome gameplay experience, Dhoom:3 The Game appeals to both casual and mid-core gamers. Dhoom:3 The Game can be downloaded for Free from: http://bit.ly/dhoom3gp
99Games Online is a mobile game development studio that specializes in making casual games for mobile phones and tablets. We are a division of Robosoft Technologies, Asia's leading mobile app development house. 99Games also partners with IP-owners to create great games that match global standards. We distribute games developed by us across all leading platforms. Our catalog spans multiple genres and includes successful titles like Dream Star, The Jim & Frank Mysteries, Wordsworth, and latest of all, Dhoom:3 The Game.