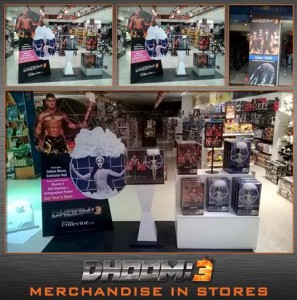 The stylish and trend-setting Dhoom:3 merchandise by Yash Raj Films has received an overwhelming positive response from consumers and success at the retail level. It encompasses a wide assortment of eye-popping licensed merchandise across a wide range of product categories that includes Electronics, Men's Accessories, Novelty Products, Notebooks & Diaries, Home Entertainment and the first ever Barbie Collector Doll, to list a few!
Dhoom:3 licensed products are manufactured by such leading brands as ICE X, Mattel, CEAT, Gulf Oil, Pepsi, Orosilber, Collectabillia, Steelbird, Nightingale, VOX T-Shirts, Parksons and many others which are often considered to be juggernauts in the market. As a consequence of the Dhoom:3 merchandise program and for the first time ever, YRF inked a unique partnership with such popular brands as Mattel, ICE X Electronics, Autographix and and a number of other companies. Official collaborations with these well-known brands has already proven to be very lucrative for all parties involved.
The cornerstones of the Dhoom:3 licensing program are creativity and a faithful representation of the movie's themes and style. Licensees have had access to an extensive D:3 style guide that has resulted in the creation of a unique range of licensed products that reflect the look and flavor of the film and which have surpassed consumer expectations! Impressive sales of D:3 merchandise is a confirmation of the accomplishments of the Dhoom:3 Merchandise program. With more than 200 D:3 products to choose from, Ice X Mobile Phones and Accessories, Mattel Toys (Collector Barbie + Hot Wheels), Pepsi – Mountain Dew D3 pack, Mobile Games (10 million plus downloads), T-shirts (sold in just 3 days from the launch), Bags and Mobile Covers have consistently proved to be the top choices of Dhoom:3 fans.
The partnership with 20 brands has resulted in a combined penetration of more than 20,000 retail outlets with products ranging in prices from Rs. 69 to Rs. 9000. The quality and affordability of D:3 merchandise has led to many fans expressing their profound love for the movie on such social media platforms as Facebook, Twitter and You Tube.
Dhoom:3 Merchandise & Technology Products were introduced in high octane Bollywood style at a star-studded media event on 19th November, 2013 at YRF Studios where Aamir Khan and Katrina Kaif expressed praise for the wide range of D:3 Merchadise products which they unveiled.