Coming up on December 20th is the, need we say, highly anticipated Dhoom:3 starring Aamir Khan, Katrina Kaif, Abhishek Bachchan and Uday Chopra. The man behind the story of the first two Dhooms, Vijay Krishna Acharya, this time takes the lead as director as well!
Check out what he had to say in his Director's note:
Dhoom is a journey that started in 2003. A light footed caper that became a runaway hit. It is said that sequels are arguably the legitimate offspring of successful films. However, we at Yash Raj Films always felt that the reason to make the film should be its content and not just the tag of Dhoom. With this intent we brought Dhoom:2 to you in 2006. This time, the cops and robbers set up hid a love story within its folds. It had a dream run at the box office and it created a potential mine field of expectations for us. Inadvertently we had become our own biggest competitors. So here we are ready with Dhoom:3. Saying that expectations are sky high would seem like the understatement of the decade. So all we'd like to say is that we want to share this film with you and in all humility, we hope that it is an experience that pleases, surprises and awes its audience. In the cacophony of today's world, we'd like to transport you to a time when an audience discovered a film in the theatre. A time to forget your world and get involved with the world of…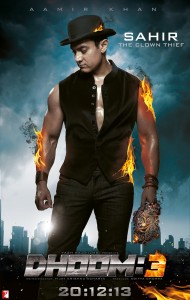 SAHIR: A man so driven that he exudes an energy that's at oncealluring and dangerous, fiery, fierce and unforgiving.Sahir The Clown Thief is a force that destroys whateveropposes him.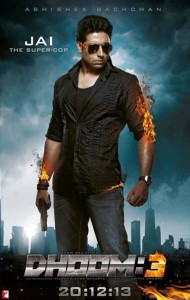 JAI DIXIT: The canny cop from Mumbai. Determined, analytical, persevering. Jai can go to any lengths to get his adversary and sometimes you have to think like the enemy to trap the enemy.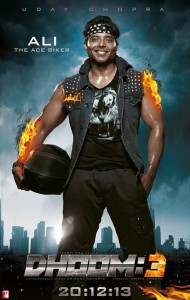 ALI AKBAR:The entertainer. The reluctant cop who's at home anywhere – from Nagpada to Niagra Falls, Ali is always at ease, ready to fall in love with anything that resembles the female form and unswerving in his search to become a "familywala."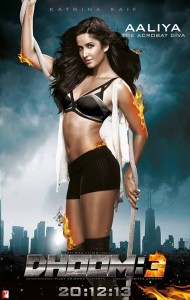 AALIYA: A fresh faced unassuming girl who transforms once she's on stage. She is a fearless soul who defies gravity in her act in the circus. She is equally fearless in matters of the heart.
Check out these cool stills from the film!