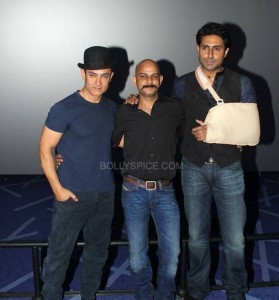 We finally got our first look at the Dhoom:3 trailer and needless to say it ramped up our excitement to see the film when it hits the big screen on December 20th. In the third part of the killer franchise, Abhishek Bachchan and Uday Chopra are back and this time they are matching wits against Aamir Khan. Also joining in the fun is Katrina Kaif who plays an acrobat in the film. The trailer certainly created dhoom on YouTube and has hit over 4 million hits in just 4 days!
At the trailer launch Aamir said, "When I heard the script I loved it…it touched me."
"The story of Dhoom 3 has emotions but at the same time thrill", he added.
Abhishek Bachchan is returning as super cop Jai and talking about the film this time around he said, "The film is edgier, bigger and better. It has more emotions. I had fun catching up all the three villains. They operated in different circumstances and are different from each other."
About his character Sahir, Aamir says he is not the quintessential villain, "The villains in Dhoom series are different…they are not the regular villains. I am not playing a black kind of a villain who does only bad work. He has his own circumstances and situations to do things."
He added, "In 25 years of my career, this is the toughest role ever."
Abhishek Bachchan had nothing but praise for the new baddie in B-town, "Aamir Khan has pushed the envelope. He has gone beyond. I think this will be his most brilliant and memorable role."
Sahir is described as a clown thief and from what we see in the trailer he is also an acrobat. Apparently Aamir had to train for the film, "I am playing a gymnast, so I need to have a certain physique. I have worked hard on my body for two years."
Of course, the Dhoom series is known for its huge action and incredible stunts and this one takes it even up a notch! "The stunts were amazing.Luckily I haven't broken any bone. The stunts were difficult but they were safe."
Aamir says he hopes audiences will love watching this Dhoom! "We hope we will create Dhoom…hope people enjoy the film. I am not looking for record. I want audience to like what we have made. They should get entertained and satisfied after watching the film."