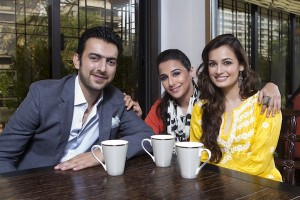 Dia Mirza, former Miss Asia Pacific and bollywood actress is all set for her second film as producer from her very own production house Born Free Entertainment. Bobby Jasoos is going to be the first film of its kind to hit Bollywood, with the protagonist being a female detective. Dia has taken the decision to cast Vidya Balan as the lead and she had nothing but good things to say about the actress. "There is nobody better than Vidya who can play Bobby. I love Vidya as a human being. Her remarkable quality of being rooted with the truth is reflected in every performance. I don't believe anyone else can act, the way she does."
Vidya is also excited about the project and said that, "the idea of playing a female detective was irresistible." She has also said that Sanyuktha Chawla's script was the final capper on her decision as it "kept her hooked".
The film is set to release in Summer 2014 and will interestingly be releasing alongside another detective film, Jagga Jasoos, starring Ranbir Kapoor as the lead.
While the similarity of the film titles came as a surprise to Dia who stated that Bobby Jasoos had been registered as her film title 8 months ago, the co-producers of Jagga Jasoos, Anurag Basu and Ranbir Kapoor said that they had had their title in mind for a long time. With strong actors as leads in both films, we'll be keen to see which film fairs better at the box office.