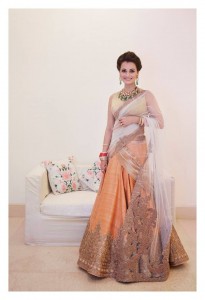 Though it was reported that Boman Irani would be taking a special part in Dia Mirza's wedding to Sahil Sangha, it seems the actor was unable to attend. Though stories and rumors have been running about why he was not able to be at the big event, Dia has made it very clear that everything is fine between the two.
In a letter she addresses the "controversy" and taking the media to task for their sensational articles.
"This is to let you know that Boman Irani is like a father to me. His absence at my wedding hurt him deeply, as is natural in a relationship that is cemented by deep affection and love. I know that you will appreciate that not only is it unfair but it is also further hurting to read the kind of strange headlines to articles about his absence. I would be very grateful if you would kindly place on record that NOTHING will ever come in the way of our mutual love and respect. And know that such articles don't do any good for an unfortunate circumstance.
You have always been balanced and kind in all that you have projected of me and I am going to count on that kindness once again.
Have a wonderful Diwali!
Warm Regards,
Dia Mirza"
Photo credit: Adil Hasan