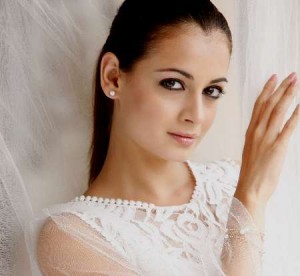 Just who are Dia Mirza's most iconic Bollywood women? "Madhubala, Madhuri Dixit-Nene, Manisha Koirala, Aishwarya Rai-Bachchan, Sushmita Sen… these are among the most iconic women I can think of in Bollywood," would be the answer to that, as the former Miss Asia Pacific reveals during the unveiling of the top 10 Iconic Bestsellers of 'The Body Shop'.
When quizzed about which aspect of her icons lives' she would want, the Love Breakups Zindagi star and recent producer gushed, "It has to be Madhubala's films, Madhuri's talent! Manisha was one of the few naturally beautiful actresses when she came into the industry, and Aishwarya, I admire for everything… just for the fact that she is truly a global ambassador of India."
Regarding the relaxed pace of her current work life, which seems so different from her earlier fast-paced work life Dia states; "You arrive at a stage in life when you want peace, you don't want to rush after things… so it's just that for me. It's time to reinvent myself, do new things, move forward and widen my horizons". Maybe it's the much speculated tying the knot with director Sahil Sangha that has matured and seen her enjoying her slow paced life, but whatever it is we're guessing Ms Dia has more surprises in store for us!