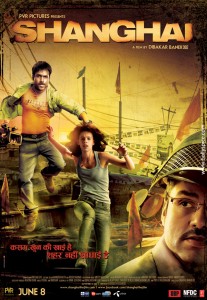 Director Dibakar Banerjee has quietly taken off for a holiday even before the release of his film Shanghai. The director's sudden decision left his actors Emrran Hashmi and Abhay Deol amused and shocked. It is a norm in the industry that actors and directors go around to promote their films prior to its release. However, this time the director decided to bend the rules for himself and took off on a holiday in the serene locales of the Himachal Pradesh.
Sources close to the film said, "Director Dibakar just left without informing anyone. He has finished all the post production of his film and needed a break. Emraan and Abhay tried contacting him once they realized he is not in town and is busy holidaying."
"Both Abhay and Emraan are very excited and nervous at the feedback they have receiving so far for the film and wanted Dibakar support at this juncture. Since they are both busy with the promotional activities they were not aware that he has taken off on a holiday but once they did they have been hounding him with calls to return immediately. Dibakar is amused and has been delaying and telling them that he will be back soon. He is now expected to return in the coming week," adds the source.
When contacted, Emraan Hashmi said, "I requested Dibakar to fly back. We need to gear up as we are just two weeks away from the film's release."
Apparently Dibakar flew down to Delhi for a press conference for a few hours as he had committed to them. Delhi is just a two hour flight from his holiday destination but he went back after making a brief appearance.
Shanghai opens on June 8th!