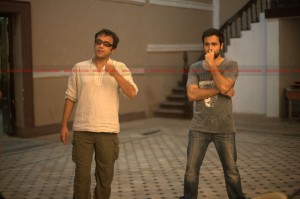 When there's a film starring Emraan Hashmi there's bound to be a Sufiyana song.  Now music label T-Series has insisted  one more romantic number be added to the soundtrack of the film.
But since the film Shanghai is a political thriller and not a love story, Dibakar was worried about adding a song thats has no connect with the film and he didn't want it to stand out like a sore thumb in the film.
Hence Dibakar Banerjee discussed the song with Emraan and they both decided that Dibakar would shoot the song himself so that the film retains its continuity.
And in true Dibakar style he has used a disadvantage into an interesting angle. Now the song will shot as a sequel to the film and will show Jogi Parmar's (Emraan's name in the film) life after the film.
The song has been completed and will soon be included in the film too.