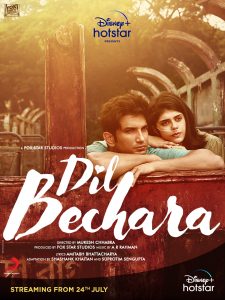 Dil Bechara (Disney-Hotstar)
Starring Sushant Singh Rajput, Sanjana Sanghi
Directed by Mukesh Chhabra
It is very difficult to not get emotional about Dil Bechara, it's about two dying people in love. Also, and more importantly, the film's hero, a true hero if ever there was one, left us before the film could be released.
There is no denying the fact that the emotions connected to the experience of watching the film overlap dangerously with our feelings about the real-life tragedy that underlines the onscreen goings-on. And to watch Sushant dying in the film, asking his best friend(Sahil Vaid), 'Will you miss me?' from the deathbed is beyond ominous.
For us watching the film after its leading man's death a month ago, Dil Bechara is more than a film. It is a warm, affectionate, cute and cuddly send-off to an actor who had so much to give. And he gives quite a lot of it here playing Manny, a manically happy cancer survivor who wants to sprint across the universe on one leg. The limp by the way is as moody as happiness. It comes and goes as it pleases.
To his courtship with the demure dying Bengali girl Kizie (newcomer Sanjana Sanghi, impressively natural) Sushant brings a quality of Jim Carrey on a day when he, Carrey, just wants to be Ranveer Singh. Sushant's performance is filled with a fatal fervor. He is what Anand in Hrishikesh Mukherjee's masterpiece on a jovial terminally ill hero would have been if Sushant had played the part.
Whether that is good or bad, doesn't really matter. We are in this not for quality checks, but simply to watch a charismatic star do his final hurrah. To that extent, neither the film's theme (it' s not about how large it is but how meaningful) nor the first-time director lets down Sushant. He gives a free-falling performance confident that director Mukesh Chhabra is there to catch him.
Chhabra fills the rather gloomy subject of two dying souls in love, with extra helpings of gloom. There is a really funny dinner sequence at Kizie's place where Manny gathers the courage to tell Kizie's mother what her father has never had the courage to say to her: that her cooking sucks.
Saif Ali Khan shows up in the Paris portion of the plot playing a jerk of a poet with surprising relish. He is the only unpleasant character in this over-sweetened confection and hence a welcome diversion. Saswata Chatterjee and Swastika Chatterjee are first-rate as Kizie's parents. Saswata is specially good conveying through subtle smiles and distant frowns the pain of a doting daddy losing his daughter while trying to keep a brave front.
By the time the plot moves to Paris to fulfil Kizie's dying wish, Dil Bechara has us wishing we could somehow change the narrative of death around the corner. High hopes.
Sushant's Manny spends his pre-death moments in a rickety movie theatre of Jamshedpur watching his idol Rajnikant beat up his enemies. Even Rajini can't defeat death.