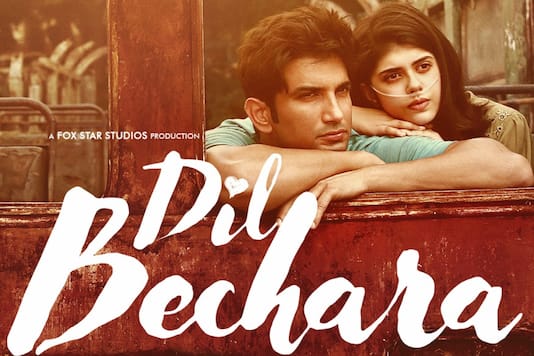 It is really impossible to be objective about Dil Bechara, Sushant Singh Rajput's farewell release, the final curtain, before the parting. The very nature of the release , the posthumous goodbye, makes it difficult to keep one's eyes steady on the screen as Sushant tries to cheer up newcomer Sanjana Sanghi who is…well, dying.
Sanghi is cute. But I am afraid this is Sushant's show all the way.
If you've read or seen the schmaltzy The Fault In Our Stars, you would know this is a film about two cancer-stricken youngsters and their shared zest for love and life. While I saw some of the romantic sequences between the couple to be straight lifts from the original, much of the material seems a lot more happy and hopeful than the original.Which, given the times we are going through, is a welcome departure from the original.
Also, the trailer of Dil Bechara makes no mention of Sushant's character being terminally ill. So either they decided to hide the fact in the trailer or they've changed the original film radically. Either way the trailer is heartwarming , and not necessarily for what we see but for what we feel.
Sushant plays such a positive character brimming with joie de vivre. It's difficult to believe this lively actor with such an incurable zest for life is no more. Dil Bechara is already a grand success even before its premiere at the end of the month. Sadly debutant director Mukesh Chabra won't be able to celebrate this success.
PS Didn't see Saif Ali Khan anywhere in the trailer. Maybe he's the bandh mutthi. Heh heh.