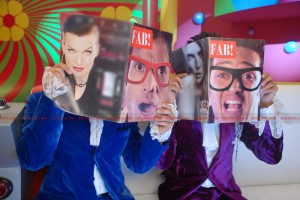 The retro-kool track from Kyaa Super Kool Hain Hum is the latest B-town anthem to rule the airwaves!
In less than a day of its online launch, the now chartbusting 'Dil Garden Garden' track from Balaji's forthcoming sex-com Kyaa Super Kool Hain Hum, was trending nationwide on Twitter, and for a few hours, even worldwide.
The deliciously colorful video inspired by the Austin Power series, choreographed by Bosco-Caesar, lauded for its color and gusto, grabbed more than 3 Lac hits on Youtube in just two days.
According to the report dated 15th June by leading film-tracking company, Foresight, since the launch of 'Dil Garden Garden', the Spontaneous Recall of the film jumped dramatically by 78.9% over the previous week's statistics while the people who definitely plan to watch the film jumped 32.1% from the earlier week. There was a jump of 58.8% in the people who definitely plan to watch the film in its opening weekend.
Director-Producer Karan Johar's tweet, "Crazy…whacky and superkool song from Kyaa superkool hain hum!!!! KSKHH…. watch it!!! It's loads of fun!!!!" was echoed by a wide cross-section of the industry and countrywide fans. Its lyricist Mayur Puri attributed the success of the track to its composers Sachin and Jigar who stumbled upon the popular phrase in a Ludhiana dhaba when they heard a man praising the lassi by saying, "Dil Garden Garden Ho Gaya".
The funky Vishal (of Vishal-Shekhar), who has sung the uber-kool track, has been inundated with messages from fans, DJs and show organizers ever since the launch. "People seem to have gone nuts about it, and some, because of it," he laughs. "Always good to be a part of a big hit!"
Music magnate Bhushan Kumar said, "We are thrilled to have received such a fabulous response to the song. It has been picking up at phenomenal speed and we look forward to releasing the rest of the album at the soonest."
The success of the track was best summed up by Anupam Kher in his tweet: "Jai Ho!"
httpvh://www.youtube.com/watch?v=8MuZZselfrc
httpvh://www.youtube.com/watch?v=HYD2gHycwvs
httpvh://www.youtube.com/watch?v=aaBSOdBp0bg
httpvh://www.youtube.com/watch?v=6r47sUHm-E8
httpvh://www.youtube.com/watch?v=E3E-wfsOHaU
httpvh://www.youtube.com/watch?v=R1Z6LN2XrMw