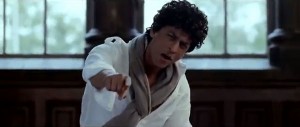 Just yesterday we gave you the exclusive scoop that the new song from Ra.One would be breaking on Sunday! We even had SRK to tell you a bit about the romantic ballad title 'Dildara'! The song is actually based on a romantic classic number Stand By Me by Ben E King. Shah Rukh has bought the rights to use the song in his film, and he thinks it's the best song in the Ra.One album with a touch of Sufi music. Well, now we have the video for the song just for you! Since you are so hitting play right now we will just say Enjoy!
httpvh://youtu.be/pFP7pdC6pPk
Ra.One hits theaters this Diwali!