"We actors are completely oblivious of ourselves and our surroundings while we perform and even when we watch our work in the rushes shown to us, our senses and vision are trained to detect shortcomings more than accomplishments. That's the only way we know to improve and render performances that come close to our own satisfaction. And it is always the audience who have the absolute right to acclaim or reject our work, however hard we may have worked to achieve perfection and excellence." – Dilip Kumar in a letter to Amitabh Bachchan on 14 December 2011
One article alone is not enough to write about the profound impact which Mr Dilip Kumar has had on many people and on Indian films. He himself may not have been aware of the fact that working in films would someday result in him being branded by film personalities and by fans worldwide as one of the greatest actors to have ever surfaced in Hindi cinema. Dilip Kumar has starred in some of the most spectacular films which India has produced, and he became a very successful and popular star of the 1940s, 50s and 60s. Dilip Kumar, perhaps subconsciously, revolutionized modern acting, and is referred to by many as 'the tragedy king of Hindi cinema.' The legendary Bengali filmmaker Satyajit Ray dubbed him as "the ultimate method actor." His acting technique has been the awe of many of today's artistes, who probably wish that they could pull off a Dilip Kumar style of performance. Dilip Kumar has inspired great actors like Mr Amitabh Bachchan, Shah Rukh Khan and Aamir Khan, who regularly cite him as their role model. To celebrate his 90th birthday, BollySpice reflects on the magic that is Dilip Kumar!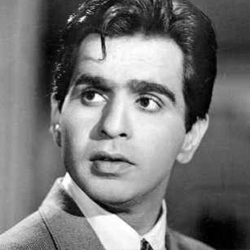 Born as Yusuf Khan on 11 December 1922 in Peshawar, British India, Dilip Kumar was discovered in 1944 by Devika Rani, who along with her husband owned the famous Bombay Talkies production house. The scholar Ashok Raj intriguingly reveals in his book Hero: The Silent Era to Dilip Kumar (2010), how Dilip Kumar came to be noticed by a woman who would be the one to give him his big break in films. "Devika Rani had gone out for shopping to a local market. At one fruit shop, she looked keenly at the young man engrossed at selling his merchandise. It was by mere chance that the shy shopkeeper had only replaced his father that day. Devika Rani found this young man with a sensitive face and expressive eyes quite unusual. She gave him her visiting card and asked him to meet her at the studio." Though he was born as Yusuf Khan, he became 'Dilip Kumar' for the big screen.
Dilip Kumar was launched by Devika Rani in the film Jwar Bhata (1944), which unfortunately did not fare well at the box office. Yet his talent did not go unnoticed and following India's independence and partition, Dilip Kumar would go onto make his mark in Hindi cinema. One of the films which elevated him to superstardom was Mehboob Khan's Andaz (1949). The film saw him paired opposite Nargis and Raj Kapoor, who would also transform into prominent figures within the industry after the release of this landmark film. A story revolving around a love triangle, interspersed with drama and tragedy, Andaz has a unique place in the history books since it the only film which sees Dilip Kumar and Raj Kapoor sharing screen space. It became an instant hit at the box office and enabled Dilip Kumar to establish himself as one of the reigning figures of the Indian film industry. The film is certainly one of the highlights of his career and he enacted his character with ease and conviction.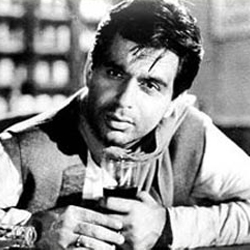 Dilip Kumar went onto star in big hits like Babul (1950), Daag (1952) and Aan (1952), the latter being the first ever Indian film to be made in colour. Yet it was in 1955 that he managed to successfully tug on the heartstrings of the audiences in Bimal Roy's remake of Devdas (1955). Based on the novel by Bengali author Sarat Chandra Chattopadhyay, Devdas is one of Dilip Kumar's key films and one where he managed to deliver one of the finest performances of his career as the classic alcoholic lover. Despite a successful third remake having been released in 2002 with Shah Rukh Khan as the leading man, Roy's version is considered to have greater substance and emotion and is now consider a classic. The exceedingly tragic performance which Dilip Kumar delivered helped to consolidate his position within the industry and won him enormous critical acclaim and awards also.
At a press event in February 2012, Shah Rukh himself admitted to the Indian media who were gathered there that Dilip Kumar is the ultimate Devdas Mukherjee. Although he gave a respectable performance, Shah Rukh does not consider his portrayal as Devdas to be within the same league as Dilip Kumar's. "I was a fool to say I will do Devdas. I feel I shouldn't have done it. I have a very deep regard for the fact that my parents loved Devdas. I was young and it was very stupid of me to do it. But I had the blessings of Dilip Sahib." When asked by a journalist if he was trying to emulate Dilip Kumar in the film, Shah Rukh responded with the following answer: "You can't imitate Dilip sahib. No one can dare copy him and whoever does so are idiots like me." Devdas sees Dilip Kumar perform alongside Vyjayanthimala and Suchitra Sen and most critics consider this version to be as close to the original story. It is a must watch for anyone who wants to see Dilip Kumar at his best!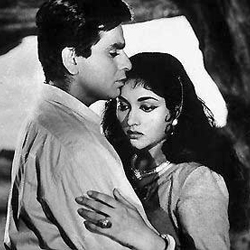 Dilip Kumar made an excellent pairing with Vyjayanthimala and together, they dished out classics such as Naya Daur (1957) and Gunga Jumna (1961). However, perhaps their most memorable film as an on-screen couple is Bimal Roy's Madhumati (1958), which skilfully deals with the concept of reincarnation. This is another one of Dilip Kumar's great works and he manages to exude the precise sentiments when his character is placed in specific situations. Madhumati went on to become one of the highest grossing films of that year and won countless awards for its gripping storyline and performances. As a director, Bimal Roy indeed played a fundamental role in sharpening Dilip Kumar's qualities as an actor. Dilip Kumar himself admits this and stated the following on a website which pays tribute to this pioneering filmmaker. "To me it was an education to work with him (Bimal Roy). In my formative years, it was important to work with a director who led you gently under the skin of the character. Today we have institutions, they teach cinema, acting etc. We did not have these in our times. We had instead directors like Bimal Roy."
In addition to Vyjayanthimala, Dilip Kumar made a wonderful pairing with Madhubala, who is considered to be India's equivalent to Marilyn Monroe. They have worked together on films like Tarana (1951) and Amar (1954). However, it was really K.Asif's masterpiece Mughal-E-Azam (1960), which enabled Dilip Kumar and Madhubala to showcase sizzling romantic chemistry. Mughal-E-Azam took ten years to create, but you only have to watch this beautifully crafted film to know that it was indeed worth the time and money that was invested into this project by the entire team. Filled with exquisite costumes, grandeur sets, eloquent dialogues and an iconic soundtrack, Mughal-E-Azam is a delicious historical epic. It is rightly considered by many to be one of the greatest films to have ever been made in the history of Hindi cinema. Only Dilip Kumar and Madhubala could have played the roles of Salim and Anarkali, with Prithviraj Kapoor as the fiery Akbar. Reportedly at the time of its release, Mughal-E-Azam was panned by some critics, who felt the film was too long. However, this did not deter the public from seeing and enjoying K.Asif's magnum opus on the big screen and it became a sensational hit. Mughal-E-Azam went onto become the highest grossing Indian film of all time, before it was overthrown by the masala epic Sholay in 1975. It is one of Dilip Kumar's most triumphant films and he essayed the role so perfectly by giving his character the masculine spark and detail that it needed. It can be safely said that you are not a true fan of Hindi cinema until you have witnessed the beauty that is Mughal-E-Azam!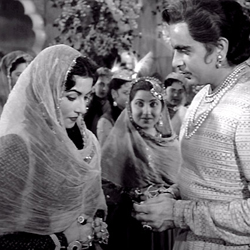 During the 1960s, Dilip Kumar continued to charm the audiences and also experimented with alternate roles. This is evident when you view his light and comic characters in Kohinoor (1960) and Leader (1964). Moreover, for the first time in his career, Dilip Kumar took on a double role in the cult classic Ram Aur Shyam (1967), which emerged as the highest grossing film of that year. Apparently, Dilip Kumar was suffering from depression due to performing numerous tragic roles. He was advised to adopt some less intense characters in order to come out of it. These light hearted films did work towards Dilip Kumar's favour professionally, as he went onto win the Filmfare Best Actor Award for all three of these films. Dilip Kumar did manage to project a humorous personality on the big screen with these films and they prove that he is very versatile as an actor. However, many will agree that Dilip Kumar is at his finest when he plays a melancholic character, which is why film experts and scholars intuitively refer to him as the 'tragedy king.'
During the 1970s, Dilip Kumar lost popularity since a wave of new actors like Rajesh Khanna and Amitabh Bachchan came to dominate this particular decade. However, during the 1980s he signed up to a number of films where he played a senior figure. In particular, Shakti (1984) and Mashaal (1984) gave Dilip Kumar the ideal platform to execute poignant performances as a senior character. He won the respect of the critics and his fans for these two films and they proved that he was capable to doing anything and playing anyone on the big screen. He eventually retired from films in the 1990s, with Qila (1998) being the last ever film he starred in.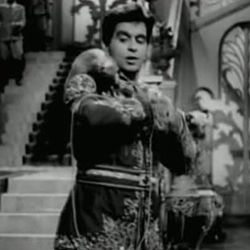 Dilip Kumar is definitely a pioneer when it comes to the craft of acting. Though he was in competition with his contemporaries like Raj Kapoor and Dev Anand, Dilip Kumar effectively popularised the tragedy genre in Hindi cinema during his illustrious career. He has set the foundation for current and future actors when it comes to exemplifying intense sorrow on the big screen. As we prepare to celebrate 100 years of Indian cinema, it should be emphasised that Dilip Kumar's contributions towards the industry are incredibly significant. Hopefully, his legacy will be greatly appreciated and revered by future generations to come. To forget about a talented actor like Dilip Kumar is like forgetting to put salt in your food. His style of acting has given Indian cinema the exact flavour that it needed!