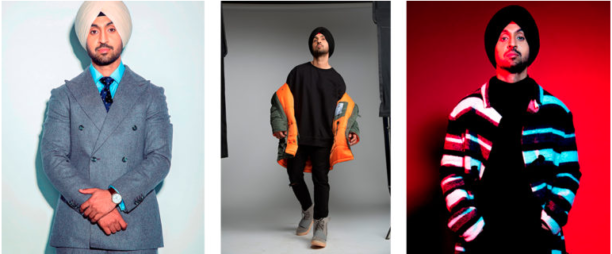 Here's a treat for music lovers everywhere. The biggest names in the Indian music industry will be performing at IIFA Rocks at the iconic MetLife Stadium on 14th July at the 2017 IIFA Festival New York. The multitalented Bollywood superstar, Diljit Dosanjh will kick start IIFA Rocks with his spectacular performance. The 18th Edition Of IIFA, weekend powered by Vivo India will also celebrate 25 years of A. R. Rahman in the industry at IIFA Rocks. The show is set to feature a never before medley of musicians that includes Benny Dayal, Javed Ali, Neeti Mohan, Jonita Gandhi, Haricharan Seshadri.
Sharing his excitement on IIFA Rocks, Diljit Dosanjh commented, "I'm really excited to be a part of IIFA for the second year in a row! I look forward to my performance at IIFA Rocks and I am excited to be a part of this grand celebration and to share the platform with such talented artists. IIFA Festival New York 2017 is definitely going to be a magical experience."
The highly anticipated 2017 IIFA Festival New York promises to be a mélange of glitz, glamour and star power with stunning performances from Bollywood megastars and celebrated musicians such as Salman Khan, Alia Bhatt, Katrina Kaif, Shahid Kapoor, Sushant Singh Rajput, Kriti Sanon A. R. Rahman, Diljit Dosjanh, Benny Dayal, Javed Ali, Neeti Mohan, Jonita Gandhi, Haricharan Seshadri among others.
Andre Timmins, Director- Wizcraft International, the producers and creator of the IIFA movement says, "The IIFA Festival New York is simply growing to become a more and more exciting project for us as we progress. We have a mega star lineup this year with the very best in both musical talent as well as the biggest Bollywood stars joining us for spectacular performances. Both IIFA Rocks & IIFA Awards will be world-class productions with non-stop entertainment, giving the audience two nights not to be forgotten. The response to ticket sales has been great and they are going fast so you should get them while you still can. IIFA in New York is definitely not one to be missed."
With the excitement growing across the world, people can now get that hot seat for the spectacular 2017 IIFA Festival New York events to be hosted at MetLife Stadium as tickets are LIVE to the general public available online only at ticketmaster.com or by calling (800) 745-3000 or by simply clicking the 'Buy Tickets Tab' on the official IIFA website http://www.iifa.com/. Fans can also purchase the tickets at MetLife Stadium Box Office (Box Office hours: M – F, 11am – 5pm). For VIP Club Experiences, e-mail us at vipclub@iifa.com.
As IIFA continues to bring together the biggest stars of Bollywood and Hollywood on one stage, the 2017 IIFA Festival New York will play host to some of the most celebrated stars and musicians of the Indian film industry, notable guests, and dignitaries from India and the region, world media and Indian cinema fans from across the globe.
Wizcraft International Entertainment Pvt Ltd, known for pioneering many extravagant and mesmerizing events in India and across the world, conceptualized IIFA 17 years ago, by the creative genius of the trio of masterminds – Andre Timmins, Viraf Sarkari and Sabbas Joseph. The vision was to celebrate Indian cinema outside India; and IIFA (International Indian Film Academy) the flagship brand is the accomplishment of that dream. IIFA is dedicated to building bridges across cinema, businesses, communities and nations, creating everyone's dream: "One People. One World". The journey over these past 17 years has seen the brand evolve from a one night affair to a weekend, which celebrates and hosts various events and activities related to cinema, business, culture, music and fashion. Hosting a variety of events during the weekend IIFA helps bring together a global community of people from all walks of life.
Right from its inception, IIFA continues to bring together two of the world's most prolific film industries, Bollywood and Hollywood. Over the years, IIFA has brought together the finest of entertainment to light up the stage wherever they go, from International superstars, Angelina Jolie, Jackie Chan, Thora Birch, Kylie Minougue, John Travolta, Hilary Swank and Kevin Spacey among others. Some of the celebrated personalities from the Indian film and music fraternity and Friends of IIFA who have supported us are Amitabh Bachchan, Shah Rukh Khan, Salman Khan, Hrithik Roshan, Anil Kapoor, Ranveer Singh, Shahid Kapoor, Farhan Akhtar, Abhishek Bachchan, Anupam Kher, Priyanka Chopra, Deepika Padukone, Aishwarya Rai Bachchan, Katrina Kaif, Sonakshi Sinha, Boney Kapoor, Sridevi, Karan Johar, Rakesh Omprakash Mehra, Sanjay Leela Bhansali, Rajkumar Hirani, Sajid Nadiadwala, Shabana Azmi, Javed Akhtar, A. R. Rahman, Pritam Chakraborty among others. Over the years, mayors and leading government officials, global dignitaries, delegates, business leaders have shown their support for IIFA.
IIFA continues on its journey with strength to grow every year in the world of entertainment and building the outreach as a major event globally to bring positive results and impact. This year is set to be one of the biggest, most extravagant and amazing IIFA Weekend's and Awards to date. Keep up to date with all the latest news and details on IIFA by logging on to www.iifa.com or checking out the social media handles:
Facebook – https://www.facebook.com/IIFA/
Twitter- https://twitter.com/IIFA
Instagram – https://www.instagram.com/iifa/
IIFA Festival is ready to take over New York City. Don't miss it for the world!